Okay, I don't know what it is about vintage, but I LOVE it. Always have. Maybe it's the just the idea of simpler times. A time when being together was easier to do - at least when you look at it from this side. That country, homemade, cozy feel to it that really, REALLY, appeals to me. So the fact that the manufacturers have plenty of it out there just makes me happy. I totally fell in love with Jenni Bowlin's Farmer's Wife line when I first saw it. OMGoodness, I knew we had to use it. All that throw-back country goodness. Yum! I mean, here take a closer look at it -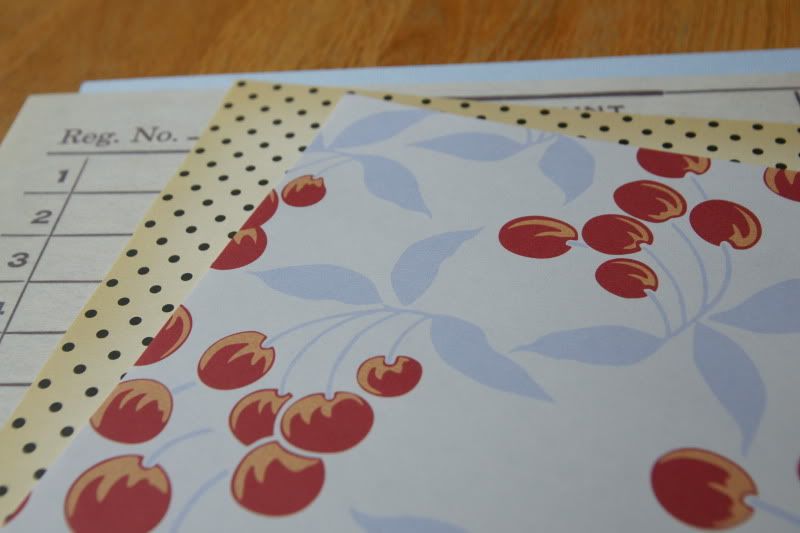 Those plump little cherries look like they belong at a picnic -- which would be great photos to use these papers with. Combined with the sweet little polka-dot and the ledger-style paper brings country to your door. I love these notebook/ledger papers because they make writing my journaling in straight lines so easy -- I don't have to draw lines and then erase, or just attempt it free-hand only to find my writing slanting up and down!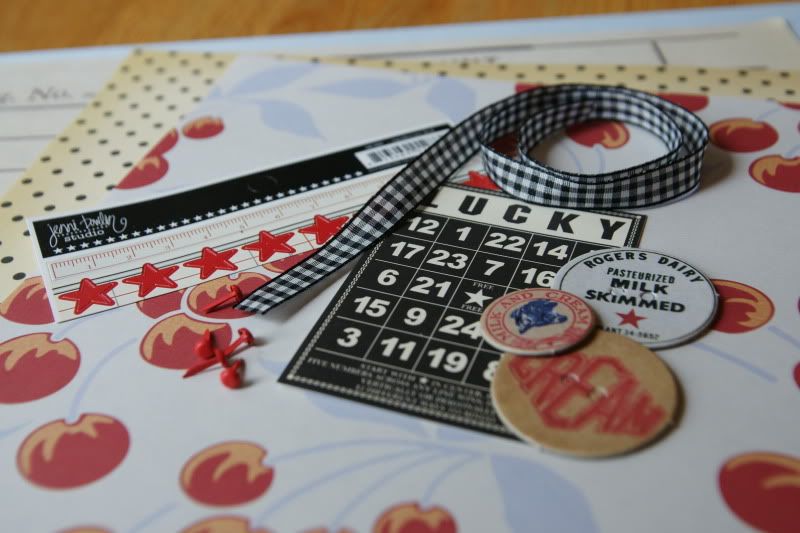 Now take a closer look at the little yummies we paired with these papers. Those milk cap buttons, OMGoodness they are sooo stinkin' cute! Throw in that mini bingo card, the Apothecary stickers with the little ruler and stars, the gingham ribbon and a sprinkle of mini brads and how can you not play with this kit?! There are so many possibilities for layouts: good old fashioned 4th of July - the kind with bike parades and BBQ's that sport cherry pie for dessert. The papers make me wish I had gone cherry picking last summer when we were on vacation in Michigan. Shoot get me a tree, my kids and my camera and I'll set up the photo shot now. :) Any picnic, even the end-of-school-year picnics, local bazaars or even a trip to your area farmer's market. I could hardly wait to get my hands on this line, and I know you'll feel the same way when that postal box hits your front step!