We're at the end of June. Can you believe it? The year, once the snow leaves, seems to just fly. Or perhaps, it's more, once the heat hits the year tends to drag.
This is our last look at the June sketch, which is found in each of the scrapbook kits and provided exclusively to Apron Strings by Becky Fleck over at PageMaps. The sketch, as it is has places for seven photos. I talked about breaking the sketch down and making it your own HERE.
Here, Kristin Perez only had five photos. You can see she adjusted the size of the photos on the left side to fit her needs, while maintaining the layout of the photos in the sketch. She embellished similarly to the sketch, right down to the envelop (which was in the kit before I knew the sketch included one...how 'bout that.)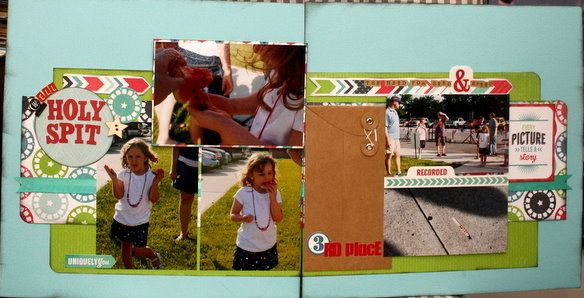 Here Maria Swiatkowski stuck true to the layout, without the envelope, and embellishing a little more clean and simply.
If you leave the space for the envelope empty you may need to do a little adjusting. A simple option is to move your journaling to that space. You can also slide the right side grouping of photos to the left and embellish the right side of that group a little heavier or move the journaling there. Another option is to slide the left side photos over the seam and crop the photos so they spread over the seam of the two-pages. You might use larger photos, like 6 x 4", so you don't crop someone in half. You could also just do as Maria did with a simple diecut in the envelope's space. Adjusting your layout to compensate for the envelope will re-balance the layout and eliminate the empty space.
Finally, we have Jennifer Halleck, who slipped in another photo (to get eight photos on her layout) where the envelope would be. Her embellishing followed the sketch, though she shifted the right side embellies down.
It's the last day of June, if you haven't yet cracked into your kit, make it a priority. Use your sketch and you'll have a completed layout before you know it.