Moving our daughter up to school last Thursday, followed by a difficult Friday, put me so off my posting. So you'll get two posts about Pinterest recipes this week. If you're looking to get a little "me time" into your weekend, there's snacks and quick meals to feed your family, so at least they won't come bugging you. Well, they'll still bug you, but it won't be food.
I was testing these Chocolate Chip Pecan Granola Bars. I'm looking for a good bar, that is chewy, but holds together well. If it's good, I can customize what goes into them. These were pretty good. They did need to cool completely before cutting. They had a soft, chewy texture. I worried about a honey taste, but they were just lightly sweet - no overpowering honey flavor. I think they'd ship well to someone in college, too.
We had peaches galore. 36 pounds of the lovely golden globes. We hoark them down until we can't eat another one and then I can or freeze them. So, in our gorging mode, I used them in this Perfect Peach Dumplings dessert. It's been forever since I've had a dumpling, I forgot the soft texture. They were good. Next time I'd slice the peaches a little thicker and reduce the liquid just a bit so more of the tops were flaky. Served them topped with fresh whipped cream.
There are people in my house who need to get off of fake sugar drinks; they think straight water is boring. There seems to be a thought that it's not sugar, but I know enough that fake isn't any better (perhaps even worse) than over-consumption of the real stuff. So I'm looking for easy to make alternatives to rid a pantry full of, basically, crap. Copycat Olive Garden Peach Tea appeared on my radar because I had peaches on the brain. I must preface this with, I'm not a tea drinker. It always smells so much better, to me, than it tastes. I opted for Green Tea, which is usually a little stronger than Red varieties, so it wasn't as peachy as I'd have preferred. I will probably keep the simple peach syrup recipe and add it to seltzer water or ginger beer, and I will try it with a red tea, maybe even a brewed and chilled peach tea. I will not give up.
I made these Teriyaki Meatball Bowls for In-Law dinner. I upped the ingredients by half, instead of a double, but I should have gone double. The other mistake I made was the meatballs cooked too long, so they were a bit on the dry side, though the flavor was good. I'll watch the cook time next time, or I'll use a mix instead of just ground pork. The glaze however, was amazing. I may also add some sweet peppers and broccoli florets just to get some more nutrition in them.
It's still a little warm for oven-cooked, sauced up recipes, but theses Chicken Enchiladas with Green Chili Sour Cream Sauce just sounded good. And they were. I appreciated the sauce wasn't made with canned cream-of-something soup, so it was nice and creamy without being overly heavy. I added the seasoning from this Taco recipe to rotisserie chicken, but unseasoned rotisserie chicken would totally work,
too.
Quesadillas recipes are really more reminders of combinations to fold inside than actual recipes. Pizza Quesadillas are easy and fast and not a new idea for me - we've had them before. But this blogger's "recipe" caught my eye because she said to fry the pepperoni first and that was a genious idea. Crispy, bacon-like taste with gooey cheese. It's now a permanent mental note for after-school snacks and lunches, or as a side to tomato soup for dinner.
We hosted a "Wish her luck" party, the day before Girlie took off for college. Because it was in the middle of the week and school was in session for almost everyone, I opted to serve dessert. These Orange Creamsicle Cookies were one of the choices. I'm a creamsicle fan, old school, the current versions don't hold up to childhood memories, but these cookies took me back.
Have I said we have peaches? The gathering also featured use of those peaches in this South Carolina Cobbler. It was easy. It was good. I could have probably cooked it just a bit longer, as the center of the top wasn't quite as done as it might have been. Served with homemade vanilla ice cream and there's wasn't a crumb left.
I made Slow Cooker Shredded Beef Tacos for an In-Law dinner. I've mentioned before I'm not good with cuts of beef, all the names they go by in different regions and what I could substitute if I can't find a called for cut, but luckily the butcher was out when I was looking for the roast called for. She recommended a standard chuck pot roast, so that's what I went with and it came out delicious! I finished it with chopped cilantro and served it with soft corn tortillas, but flour and even crispy taco shells would work. It would be a good recipe to double and freeze half to keep on hand for quick dinners. It would also be great on nachos.
I made Chocolate Chip Lava Cookies to go with the tacos and the left over ice cream from the gathering, topped with this Fudge Sauce. They were good, really good. Next time I'll bake them a little less time - maybe just a bit under cooked because they were a little crunchy, and therefore difficult to eat with a fork. I'll also put more melted chocolate in the middle; I tend to be conservative with fillings the first time through.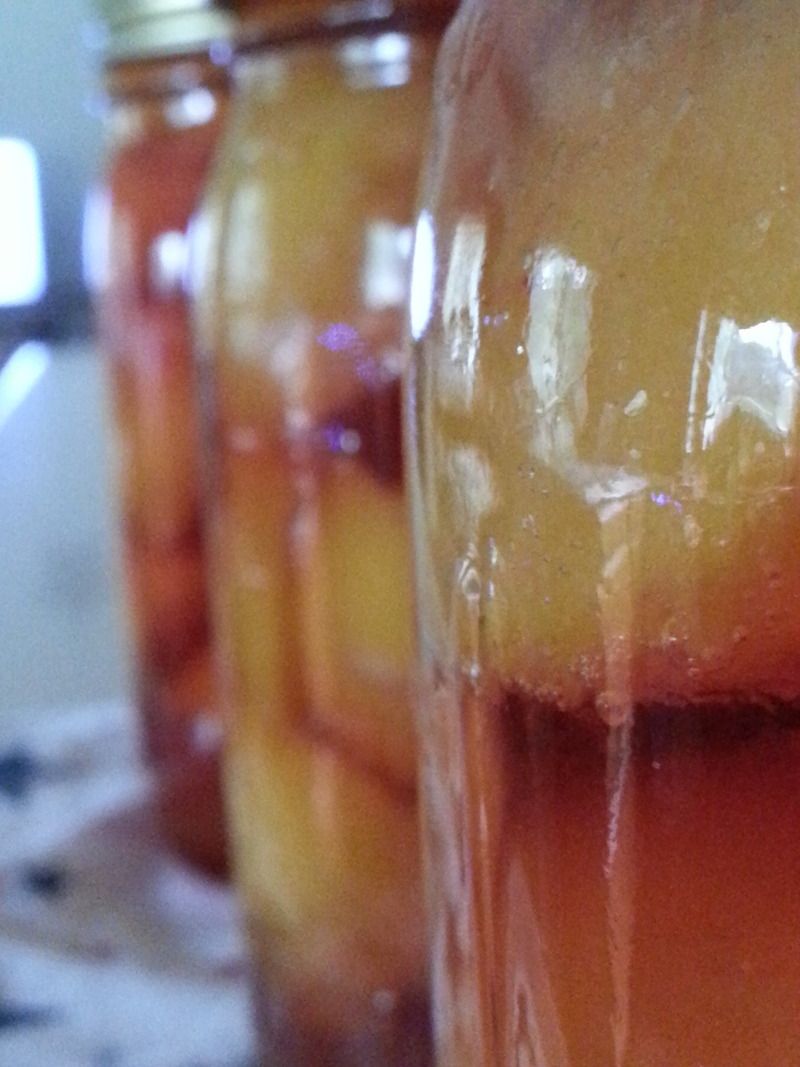 We had eaten more peaches in a week than we do all year. We were full. We were done. I still had a good 18 pounds of peaches to deal with and they were over-rippening fast. I opted to slice, skin-on, and freeze some (I simply tossed the sliced peaches in a Fruit Fresh solution listed on the back label. Layered them in single layers on a parchment covered cookie sheets and stuck them in the freezer, until frozen. I had three sheet pans full. I put all the individually frozen slices and into a large zip freezer bag to dole out over the winter.), and then halved/thick-sliced and canned the remaining. I used the raw pack method in the post because the peaches were already getting over-soft, and I thought the hot pack might make them more so. I also needed an additional half-recipe of the light syrup to finish up. I ended up with five quarts.
We have no plans for the weekend. I understand it will be hot. Girlie is not coming down this weekend, she will be home the next two weekends, though. We'll see what becomes of an un-scheduled couple of days.
Happy Friday,