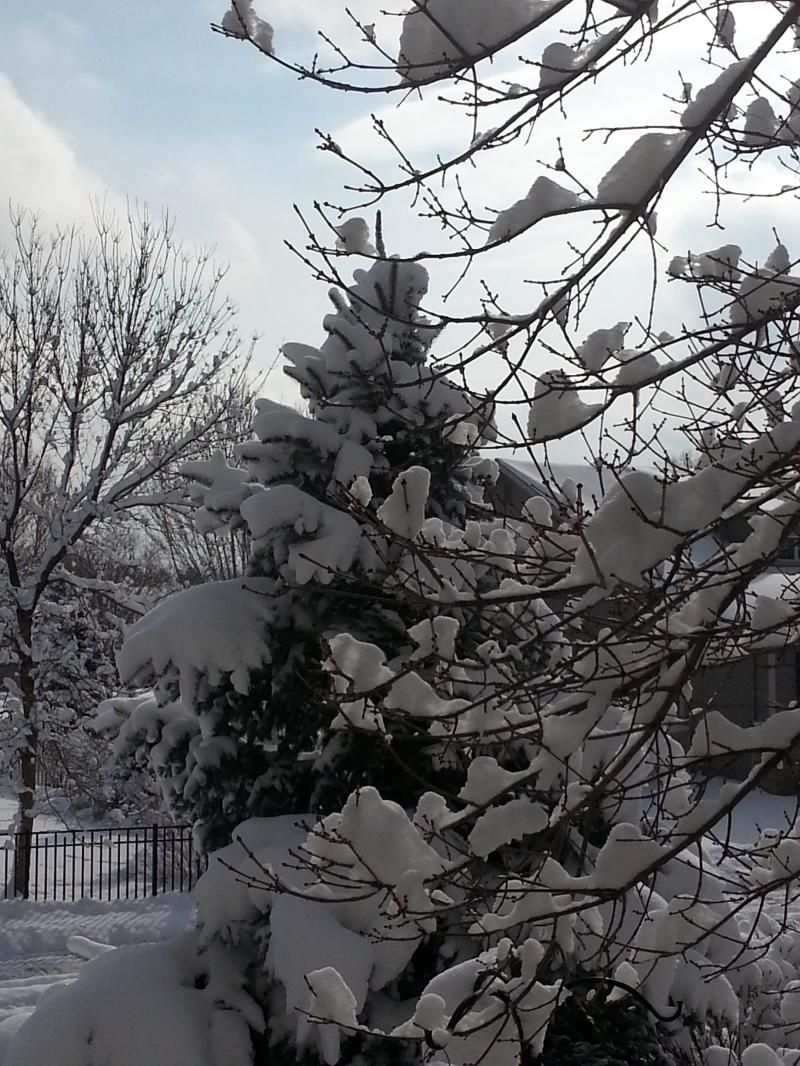 The sun is sort of out and sort of shining on the 10" or so of snow that fell over the last couple of days. We ended up with another snow day for the older two yesterday, you know so they could rub it in the faces of the younger two. The High Schoolers are back in school this morning; our district really needs to implement a delay plan. The younger two are out of school, again, today but this is a planned teacher in-service. I seem to have picked up another bug, which is uber unusual for me. Forecast has temps no higher than 20 and more snow. I don't see me leaving the house for the foreseeable future.
We were thinking of hitting up the fish fry at church tonight but homemade
fish tacos
sounded better. Hubby has invited his brother and sister and their families to join us, for our regular In-Law Friday dinner. I need to find a rice casserole to go with it and I'll probably whip up a skillet dessert, to finish.
The rest of my menu for this week came mostly from
Taste of Home
magazines and they were kind of misses, which is pretty unusual, too. I did make one thing from
Pinterest
, and it wasn't even really a recipe.
This
Turkey Bacon Ranch Flatbread
sandwich was more of a "hey, make a sandwich" reminder than a recipe. Sort of how I think of quesadillas - I pin combinations to remember since making a quesadilla isn't really a recipe, per se. I was planning on making some oven-baked fries to go with it, but by the time I got home, I was pretty much over making anything. I used those sandwich thins (they look like really flat buns or split flatbread) instead of flatbread. Next time I'm in the mood, I'll make the fries and my own dressing; last night bottled dressing and potato chips worked just fine.
I also made these Chunky Chocolate Chip Peanut Butter Cookies. My "we only like Chocolate Chip Cookies family" seem to be snarfing them down just fine; they don't typically like straight-up peanut butter cookies. I looked for a pin to make life easy, but there wasn't one. These came out of my Nestles Best Ever Cookies.
3/4 c (1 1/2 sticks) butter, softened
1/2 c creamy peanut butter
2 cups (12 oz) semi-sweet chocolate chips
1/2 c coarsely chopped peanuts
Combine flour, baking soda, salt and cinnamon in a small bow; set aside. Beat butter, sugar, brown sugar and peanut butter in a large mixing bowl until creamy (a couple minutes.) Beat in egg and vanilla. Gradually beat in flour mixture. Stir in chips and peanuts. Drop by rounded tablespoon onto ungreased baking sheets. Press down slightly to flatten into 2-inch circles. (NOTE: I didn't press them down and in my oven they cooked up fine.)
Bake in a preheated 375F oven for 7 - 10 minutes or until edges are set but centers are still soft. Let stand for four minutes; remove to cool on wire racks. Makes about three dozen
Here's to a productive weekend.