CHA (Craft and Hobby Association's Vendor Convention) starts next week. It's like a second Christmas, when the manufacturers roll out all their news lines and embellishments. You can definitely see the trends when you have emails flying into your inbox almost hourly. Lots of hexagons - lots! Chevrons are still big. Bright color pallets. The interesting mix of bold, contemporary graphics with vintage snippets. There are definitely some delicious looking goodies. Which in turn will create some great kits arriving at your door in the next few months. The yumminess coming out of the show isn't usually available right away, but I'd say March or April will bring fresh, new products to play with.
My 2013 goals include not only picking my One Little Word,

Permission

, but also taking Ali Edward's class over at Big Picture to . . . I don't know really - I'd like to say it was an impulse click. Make it more tangible. Make it more interesting. Give me blog content. Probably a bit of all of that. I said before, I had a word last year,

Simplify

. It's funny how just picking the word (or having it pick me) infiltrated my thoughts. It's responsible for my tackling my scrap space. It's responsible for clearing out cupboards (which after a year need to be gone through again.) It's responsible for double-thinking how I spend my time. It's even responsible for my menu planning. It's exciting to think about where Permission might take me and how it will change and influence 2013. Even if you don't take the class, try picking a word - usually the word finds you. . .you can find a list of words HERE. Read them through, see if something resonates with you. Type it on your phone and make it your background. Jot it on a sticky note and put it on your bathroom mirror or refrigerator Take a simple approach and see what happens. You can take the class next year ;).
The assignment for this month is to make these little cards. I cut and completed the 12 cards at Archiver's last Friday. They still need a little color, but didn't have the paper I want to use with me. I also need to complete four more cards, just fun play-with-paper cards, and take a photo of myself to call January's prompt complete.
I also need to re-read the prompt (probably re-watch the video, too) to be sure I'm understanding how these little cards come into play, besides just being a visual reminder. But that's for later in the day. A 30 day deadline is definitely up my alley this month!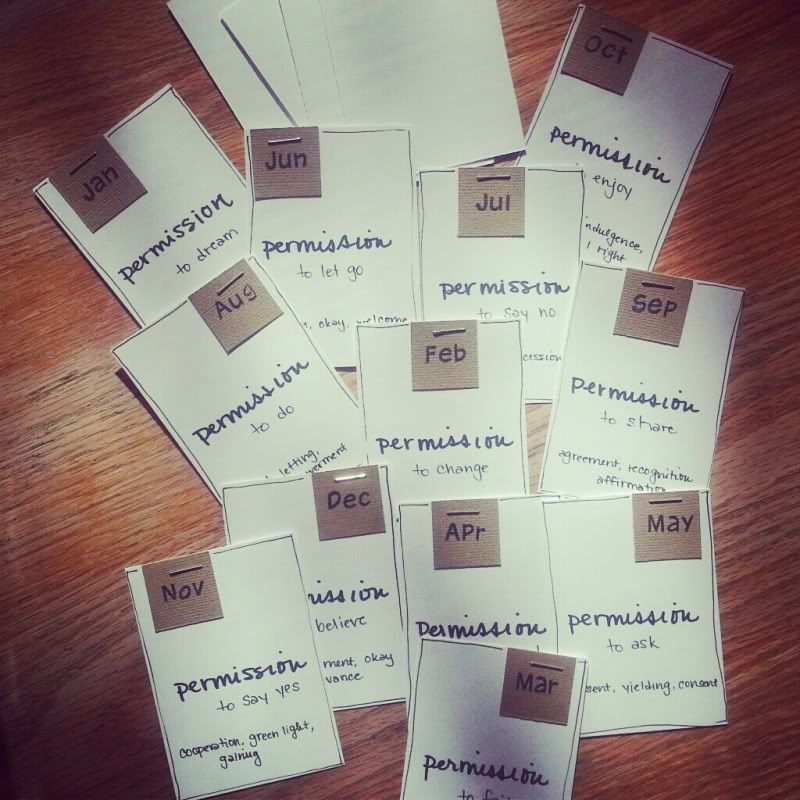 And because I seem to be surrounded by ideas and things to try - I may be spreading myself rather thin - but I found another class that looks interesting. . .and it's FREE: "Use Every Stamp" over at My Creative Classroom. It's not like this would be yet another separate task, but something to incorporate into my crafting in 2013. Now I don't have a ton of stamps, so in theory, this wouldn't be a difficult challenge, but what I do have doesn't see the light of day much. Note, it doesn't say "Use a Stamp Everyday," just to "Use Every Stamp," which I guess could result in having to use a stamp a day if you have that many. . .in which case I might point you to yesterday's post about parring down. :D
Are you overloaded with ideas yet? Join me on some of them won't you? The journey (and nudges needed) is more fun with friends.
Happy Wednesday.