I finally got to a point where it felt like I could reward myself with some "me" time. It was unfortunate that it was at like 10:30 last night, but hey, I'm not really good with daylight scrapbooking anyway. What that means is that I completed the cards I wanted to make using scraps from my Week-2 Project Life page and that I completed Week 3. Yeah me!
Here are the cards, using the scraps of a past Apron Strings kit - I'm pretty sure it was December 2010's papers. I went back to the Big Picture Class I took last year, "28 Cards in 28 Days" and just started with the first handout. And as I'm uploading them I'm realizing I totally missed incorporating any stamps - my 2013 challenge that goes with My Creative Classroom's FREE "Use Every Stamp" class. Oh, well, there's more scraps on my table to use with stamps!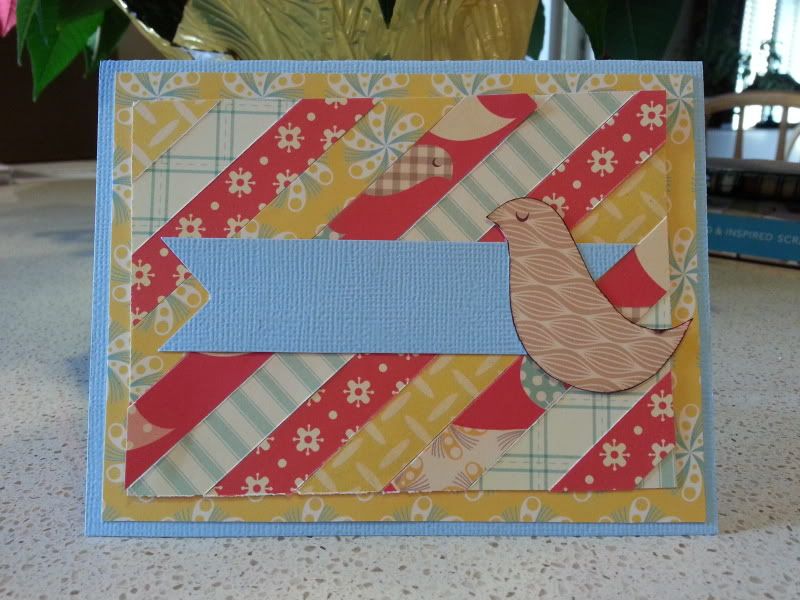 And now, finally, Week 3 is complete and in the book. I'm enjoying the process. I'm snapping photos of whatever strikes me with my phone. This week it was documenting my attempt at making my own tortillas, finishing my first book of the year, the start of spring soccer, learning pinochle (a totally frustrating experience!), my daughter's thrill that the NHL was back, and my 4 y.o.'s personal task to write his name on any surface he can find. And, yes, the two walks I took last week. Still keeping it very simple and I think I'm going to look for some three-up divided page protectors the next time I'm at Archiver's.
My hope is to give myself a little

Permission

(ah, there's that One Little Word) to do a little more creative work this weekend. I have to finish my OLW cards, as the end of the month draws near. The inspiration for what to do struck while I was tidying bedrooms, so I just need to sit and do it.
And just one last thing. . .if you're looking for something yummy for, oh, a snack while you yourself are creatively playing, or maybe Sunday breakfast, this is your recipe. It's pinned on Apron Strings' I Can Cook That that board via SweetPeasKitchen.com. I made it this week and have been adjusting what I'm eating to make room for this one! The syrup and glaze give it a fresh, tart flavor that would make it an awesome dessert in the summer. I used fresh blueberries that are on the brink of bursting and the bread is super moist. . .so much so that I will adjust my bake time next go round.
Happy Friday!