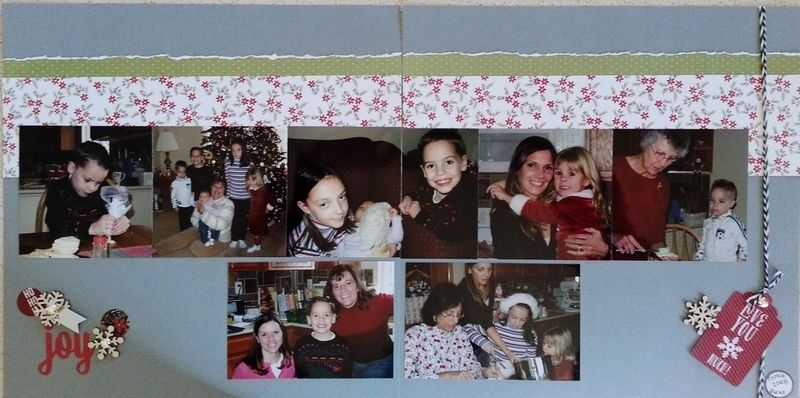 Geez, I hope that top line is straighter than it looks in this picture.
This is one of the four layouts I did a while back when I attended a crop with friends. Now that some big things on my to-do list are behind me, I need to play with paper. Truly. It's a need.
The kit is from December '14, so not so old. The Pink Paislee Merry & Bright line to be exact. The pictures, however, are from a Cookie Bake a lifetime ago - 2005. Back when they were more interested in getting a jar-full of sprinkles on a single cookie, licking the frosting off the cookie they had in front of them, or eating the colored sugars that had fallen off of various cookies.
I liked the line's black, mixed in with the usual red and green. It was a color combo that worked with these pictures. I used two of the three patterns. The one I didn't use had ornaments on it, which didn't fit with this story. I kept the layout grid-simple and symmetrical.
I used almost all of the embellishments. The "Joy" came from a word sticker sheet, which still has four or five words on it. The paper is more intact, but because I don't have the embellishments I will have to decide whether to make a couple cards (or maybe tags for next Christmas), or just toss the paper in the giveaway box for the Kindergartners at school. Decisions, decisions.
Happy Thursday,