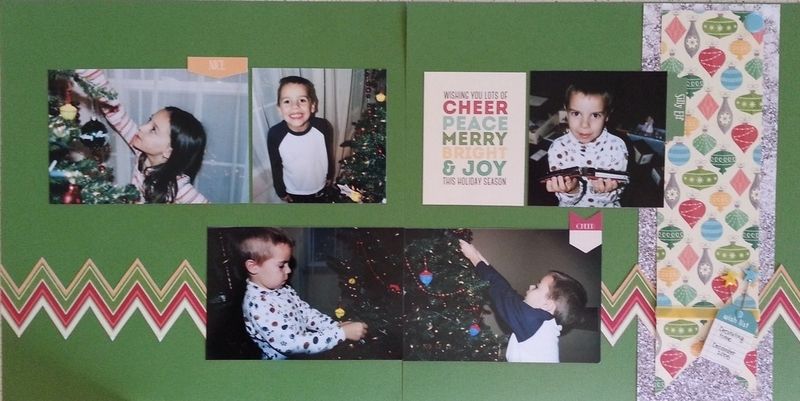 It's been far too long since my fingers thumbed through photos, or received a paper cut while flipping through patterned paper choices. Too long.
Therefore, I am living vicariously through this layout, created some weeks ago at a crop. It was an all-Christmas night. All with photos from 2006. All with kits from December '14. This line is Jillibean's Holly Berry Borscht Soup.
In case you haven't followed posts before, or you've just never noticed, I'm sort of a minimalist when it comes to my layouts. Not generally with photos, but with papers and such. Therefore, there is much left of this kit to be used again, given I used barely three patterned papers. I also gathered just a few embellishments from the kit - a bit of velvet ribbon around the Ornament Pennant, the two Star Pins, a Small Tag that holds the sub-title "Decorating" and the date and a couple Sticker Tabs, found on three of the photos. The Title comes from the Journaling cards.
I like using patterned paper or journaling cards (which almost every line has these days) to fill in spots in grids. Yep, this is a grid, with some open spaces, which could be filled with more photos, more paper or a layering of embellishments. It's a quick and easy way to get a page complete.
I started by chopping down my photos. I rarely have a plan for that. I trim and chop and let the picture dictate how much. Sometime I may try to even up either widths or heights of the photos, but that doesn't always play out. In this case all the photos are the same height.
I move them around until I get a look I like and then I mess with my kit. I always pair photos and kits, but have no plan beyond that. I originally had the glitter paper matting a rectangle of the Ornament paper. I didn't like that look, so I notched the bottom to create a pennant. It was a long stretch of paper, and I didn't have enough photos to overlap some of that space, so I decided to break it up with the Tag/Pin grouping. I was a little lost there at the bottom, so I wrapped the length of Velvet Ribbon near the bottom and that helped.
Looking at it laid out, I haven't yet glued anything down, there was too much white (or in this case, green) space. I needed to break it up. The Ribbon wouldn't work with this cardstock background color choice, so I look to see what patterned paper might lend itself to a border strip. Woohoo, the ZigZag paper worked perfect. I hand-cut the pattern out and ran it along the bottom of the layout. I layered it under the Ornament paper, which unintentionally created another break for the small Tag/Pin grouping to show up better. Running it under the Glitter paper didn't have the same effect.
Even without a plan, this layout took about 45 - 1 hour to complete. That includes all the photo sorting (pulling out duplicates or just bad photos), trimming, cutting, shoving around and gluing.
And suddenly, it's done. Moving on. . .
Happy Thursday,