A few weeks ago I received an email about a class at SCT (Scrapbook and Cards Today.) I read about the Easy-Detailed-Expert Class. I checked out the sneaks. I kept the email. I looked at it again. Then I caught sight of my dust-collecting scrapbook bags sitting under the kitchen desk. Where, I might mention, they've been sitting since my last outing, how many weeks (months?) ago. I needed something to get me rolling. . .or cutting.
So, I dropped some money and was determined to do something. I dragged my totes into the dining room. Pulled out a kit (already paired with a stack of photos) and the first week's information. It was a Friday, because I was cooking and thought, "I can play while I make cookies for dessert." And I did. Those 10 minute intervals while cookies baked in the oven unleashed a weekend of scrapbooking. I left my stuff out. I played between chores. At night, I played uninterrupted. Or as uninterrupted as you can be during the summer when all four kids are home. By Sunday evening I had completed 12 pages and had one in a roughed-out stage.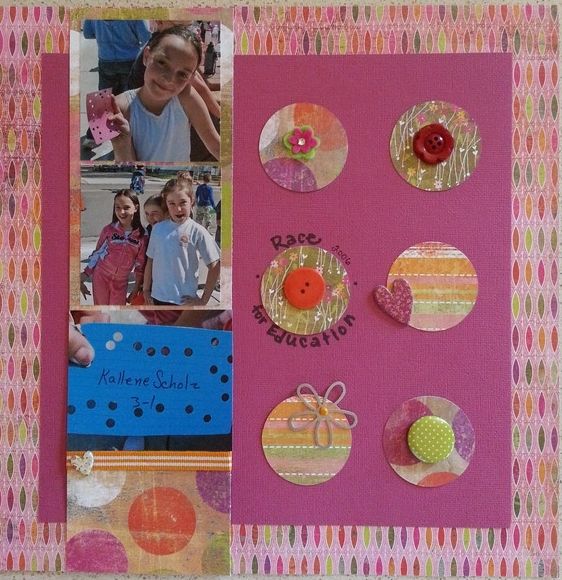 This layout was based on the second week's sketch. The paper was Basic Grey's Green at Heart. The kit was a Bigger kit from 2010. The photos from 2006. When I throw back, I throw back.
This was one of three or four layouts I did using the same sketch as inspiration. I also used the same kit for two or three more layouts (I added cardstock from my stash when I'd run through what I had in the kit.) I like the grid on the right. I've never done something like that. The sketch was a one-photo thing, and I'm not into one photo layouts, as a general rule anyway, so I used what I needed to capture the event and include some of the details of the sketch.
I would say my stuff runs on the "Easy" side of the class, which comes with cut files that I have yet to use. Surprised? No? Good. My challenge to myself isn't so much to follow the examples to a "T" as it is to stretch myself into the "Detailed" side of the class, which is more embellished, which is so not me it's scary. But the point of me taking the class isn't just to scrapbook, but to try something new or push myself a little.
Happy Thursday,