I'm not sure what about orange I can't get enough of, but the color is energizing. It's warm and cool, it's fun and juicy and it's just one of those colors that I love to use all year round. So naturally it appears often in the kits. This month it's in the Fancy Pants Delight line, found in the Smaller than a Breadbox kit. And it is just that. . .Delightful! First, I love that the papers are double-sided -- with usable designs on both sides. Next the colors are so fantastic -- lime green, ocean blue, cherry red and, of course, orange! That sunburst paper is . . . ahhhh
, then there's more of that great lined notebook paper, which I really like. The design on the one side is just begging for embellishments like a little bling in the centers of the smaller flowers or along the dotted lines of the flowers, or some handmade layered paper buttons scattered to give a little texture. I can see it in my head now.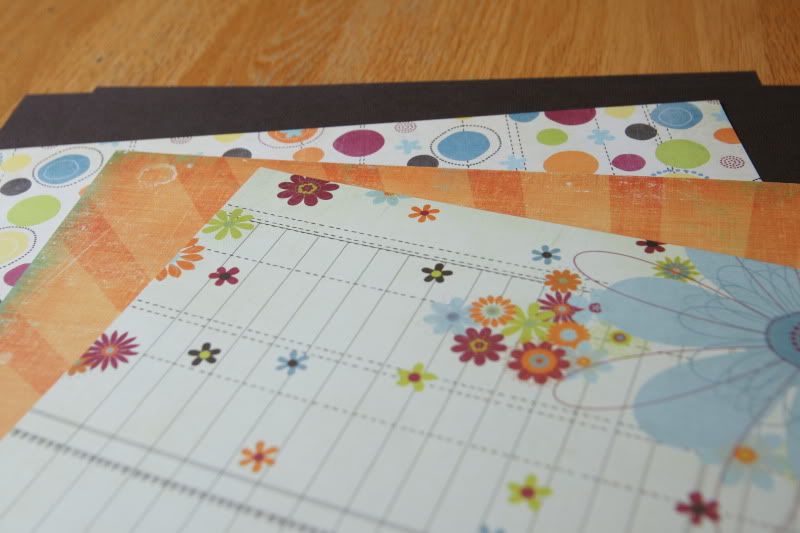 The papers were looking for fun little touches, so we added the new Basic Grey Bling It, in orange and scarlett. Those little gems are nice and clear which gives lots of nice sparkle. Add a word pebble, a mix of felt and chipboard flowers (the felt flowers are some of my favorites because of the nice clean edges), some of the Fancy Pants borders (which are reversible to an orange print on the back, just in case) and then a journaling sheet from the Delight line.
As with a lot of flowers in scrapbooking these days (trust me, it can be hard to avoid them), don't let them lead you to think only about girly layouts. Flowers are just an accent which work for layouts about trips to the zoo, a field trip (as one designer did this month,) the first day of school (or even the last, as another designer did), graduations, parties of all kinds or any day in the sun. If the flowers just don't work, remember these papers are double sided, so open your photo box, grab and go.