Who doesn't like something cool on a hot day? Whether it's ice cream, sorbet or frozen yogurt, that cool delight on the tongue is sometimes just what you need to make it through a scorcher. Gone are the days of the neighborhood ice cream parlor, or soda fountain, at least here where I live. Oh, we have the Baskin Robbins, or Cold Stone, and even a Russell Stover that serves ice cream, and they're good, but the feeling isn't the same. You have to head up into the mountains to find a true parlor, with the iron-work table and chairs painted white and those pastel parlor colors, with the shining chrome accents and curtains at the windows. However, there's no need to drive far to get that ice cream parlor feeling - you just need to get your hands on the June Smaller than a Breadbox kit. I'm sure those old fashioned ice cream parlors are just what Doodlebug (one of my all time favorite manufacturers) was thinking of when they designed their Sweet Treats line. All those great pastels cover the papers and have you thinking of the long-gone parlors and the sweet, cool treats behind the glass cases; chocolate brown, pink strawberry, green mint, blue raspberry, and cherry.
Like sprinkles on top, we've added just enough to finish your layout: some mini chipboard flowers, boutique brads with a little glitter to catch the eye, a naked calendar turn (just waiting for you to customize to your layout), some pink polka-dot ribbon, a journaling card and a dash of mini brads.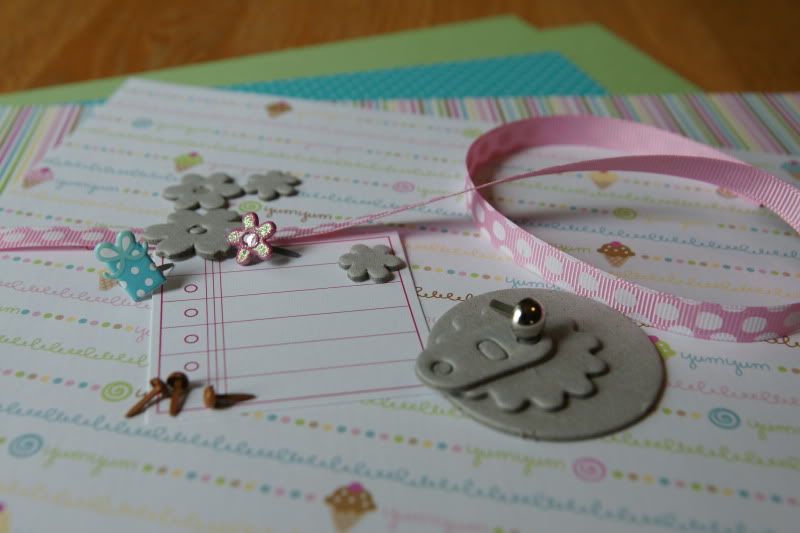 When it comes to layouts, there are several possibilities beyond photos of folks enjoying their ice cream treats. We actually have two designers (with great minds that think alike) who used the line to highlight the "sweet" connection between siblings. Think birthday parties for girls AND boys (don't let the pink throw you.) The colors are perfect to highlight summer sleep-overs, friendships, first loves (even if that love is chocolate :) and any other "sweet" connections or moments you may think of.