Lime Rickey that is -- one of the newest lines from Basic Grey. (psst. . .wait until you see their upcoming releases -- OMGoodness -- yes, we'll have them!!) Anyway, on to the last, but certainly not the least, of the June paper lines. This one is in the Bigger than a Breadbox kit. This bright and bold line just screams summer, or at least yells late spring. The quirky birds are simply fun and the full spectrum of colors has me thinking about swimming pools, Popsicles, sprinkler runs, theme parks and zoo trips. I think it's because all of them are filled with color and some activity, which is what these papers are all about.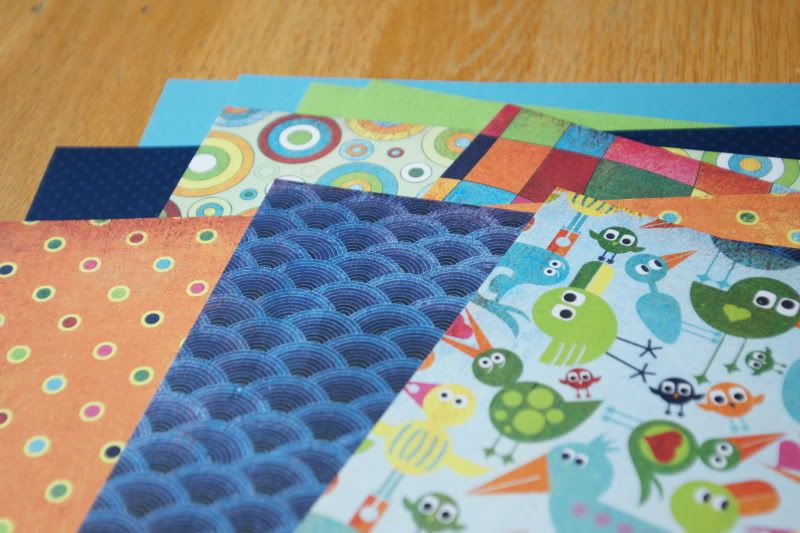 With papers this fun we have to have equally fun embellies to go with them. So we happily oblige. There's a sheet of dotted swiss paper (perfect for a little sandpaper action to pop those dots), a set of word pebbles, a magnetic over-sized clip (you could put the word pebbles on the top), a length of lime felt ribbon, a couple sheer cards, a flair button, cardstock stickers, mini sheer birds (the birds and stickers aren't shown) and some velvet brads. Lots of great textures and layering potential.
What photos can you pair these papers with? What photos
can't
you pair these photos with! School activities, sports activities, birthday parties, personality photos (pictures of loved ones where you "capture" them) and ANY seasonal shots. One designer's used them to feature a hula-hooper and a great kid mis-quote. You'll be able to see all the fantastic layouts in the upcoming June newsletter and we'll probably show off just a few of them here -- keep a look out.