I woke to a gloriously overcast day. Even a smidgen of rain misted down as I drove my daughter to school this morning.
After an unplanned re-arranged schedule on Saturday that caused me to miss my (now) 12 y.o.'s first win of the season, we settled into the birthday-palooza party on Sunday celebrating the three birthdays in the family that fall in September; within six days in September. Now the sound of new electronic toys echos in the house and I am loaded for Starbucks until the end of the year...hurray! I also spent part of Saturday uploading tons of pictures (I really need a system) so that I could take care of several online processing offers. One down, two to go.
Homecoming for my daughter was fun and it sounds like they had a great time. She apparently thought it was a much better dance than her own school's last year. So much so that she's not sure she even wants to go to her own homecoming. She's looking forward to Spirit Week, this week, and has plans to go to the game on Friday, but the dance? Not so much. Frankly, it's fine by me, she has need for some down time and, as I found out late on Friday, a bit of catching-up in school to take care of.
She looks way too grown up for her momma. And her relief of the night was that her date didn't show up in an orange tux (as he led her to believe) and that the hunk of hair he inadvertently cut out, didn't show. Hey, it makes for a funny memory for her and great journaling on the layout for me!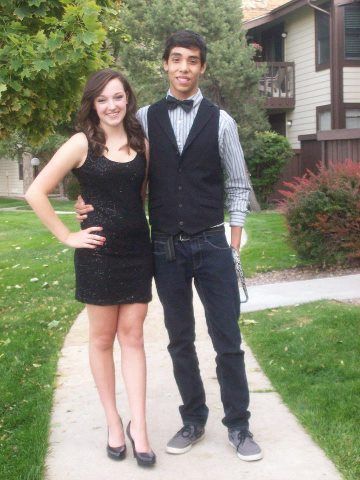 If the speedy passage of time has you wanting to capture some memories to layouts, here's some Monday morning inspiration to get you going. Created by Maria Swiatkowski using the September
Smaller than a Breadbox
kit (the My Mind's Eye Dilly Dally line).
I want to take advantage of this great overcast day, with rain in the forecast. These days always have me wanting to nest. But I have some laundry calling my name and a little (now) 4 y.o. to get dressed and some serious fatigue to try to get rid of first!