This was what we woke up to this morning - a good couple inches of wet, really wet, snow. Trees with leaves still on them don't look too happy. But my 4 y.o. is over the moon. It's a game changer when you stop to really take in how your kids act when they're super-duper excited. It bubbles, oozes and, quite literally, jumps out of them - they can't help it, cant' contain it. Funny, how when you look at it that way, instead of being annoyed because they won't calm down and stop bouncing around like Tigger, how it's a bit easier to deal with at 6:30 in the morning.
I mentioned yesterday, I took up a new hobby. . .like I have so much free time now. But I did. I, along with my sister, my mom and my mom's best friend are taking a knitting class down in Old Towne. I love the shop. One of those quaint little places in our Old Towne district (a couple of blocks that make up the town center and dates back to the 1800's and has been renewed into a vibrant little area). They offer a knitter's version of a crop and you frequently see a gathering of women knitting away and chatting up a storm. I had originally looked into classes to get my mother-in-law out of the house (long story for another time) but she said "no." At the time, I had mentioned the class to my sister, who told my mom, who told her friend and well, here we are. Our first project is a hat - it's cute (hopefully mine will be equally cute when it's completed) and I'll be working with the colors below. I did my homework last night and need to do a little more before tonight's class when we learn to Purl. Knit is the only stitch I know now, and I think, sort of, that I've got it down. Tension in my yarn is my biggest issue, so if my hat comes out the sized for a newborn, I guess we'll know that tension is still my issue.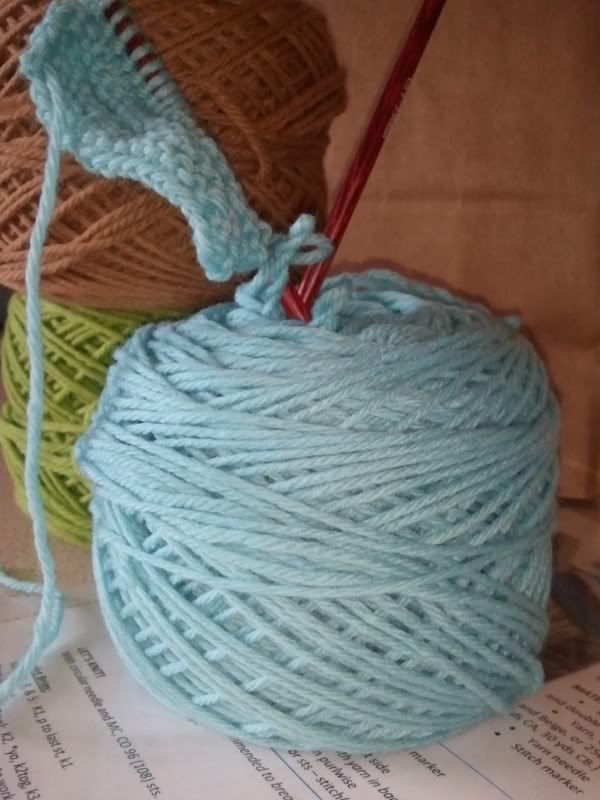 Today we'll use my yarn photo for Croptober's inspiration/challenge. It can be the colors that motivate you, or maybe the texture makes you want to use Baker's Twine or some other fiber (remember when fiber was the Big Thing?) Maybe the brown bag in the background gives you the base for your layout, has you digging for kraft colored embellishments or looking for chipboard. Maybe the picture inspires you to create a layout about the hobbies you love, hate, or always wanted to try. Whatever the inspiration, upload it by Sunday for your chance at this week's prize.
I'm excited that there will be no soccer tonight (it was cancelled last night as well), so the evening stretches out with a relaxed dinner prep and a trip to learn to Purl. WooHoo! And snow - it's almost a perfect day!