I'm a creature of habit. A big one. Just ask my husband. My routines rarely change, from the time my feet hit the floor in the morning to my cleaning of the kitchen after dinner. I have an order and a way to do almost everything I do. Seriously, you could probably set the clock depending on what I'm doing. I think my well formed routines are yet another layer to crack though in my quest to incorporate crafting as a to-do.
Fridays are typically a tough day for me to get rolling - so what better way to crack the routines I'm so attached to while making something of a Friday, than by intentionally mixing things up. I have my list of to-dos, making a layout is among them. To help break my usual cycle I am purposely ignoring the dishwasher and blogging first. I will sweep the floors after I at least mess around with the photos I plan to use. I left my bed unmade (unheard of!) in favor of eating breakfast first. And I can't tell you how hard it is to look in the kitchen and fight the urge to put down my laptop and go clean it up.
I'm planning to use the (eventual) scraps from the layout I do today to create a card based on the one created here by Wendi Robinson; she used the January All Year Cheer Card kit. The January Card kit is put together to help you prep for Valentine's Day (Wendi created seven cards) but my papers will be far from lovey-day inspired - I'm looking forward to it!
Now if you have some crafty plans for the over the weekend you can make this yummy Baked Apple Cranberry Oatmeal ahead of time so your family can warm it up and let you sleep in, or leave you alone if you are still crafting away. I used frozen cranberries - just tossed them in frozen. I only had one apple, which seemed plenty. The only downside is that it was a little drier than other baked oatmeal I have made. Don't think I overcooked it. It might have been the missing apple lending a little more moisture to the mix. Or it might just be the recipe - I'll have to compare it to an Apple Baked Oatmeal recipe I have made and see if there's a difference in the ingredient lists. Still, though, it's an awesome recipe - the tart pops of cranberry are yummy and a splash of milk in the bowl after reheating makes it perfect.
Now, it's not a breakfast in and of itself, but it could be part of your weekend breakfast, or a nice morning snack with your coffee during a crafting break. I made this Winter Peach Cobbler for dessert on Monday and it was amazing. I used the Colorado peaches I canned last summer. The recipe didn't have a lot of sugar so I worried it might be a touch bland, but it was perfect. I sprinkled Turbinado Sugar (aka Raw Sugar) on top instead of granulated and it was just the ticket. We had it with ice cream, but whipped cream or just plain works, too.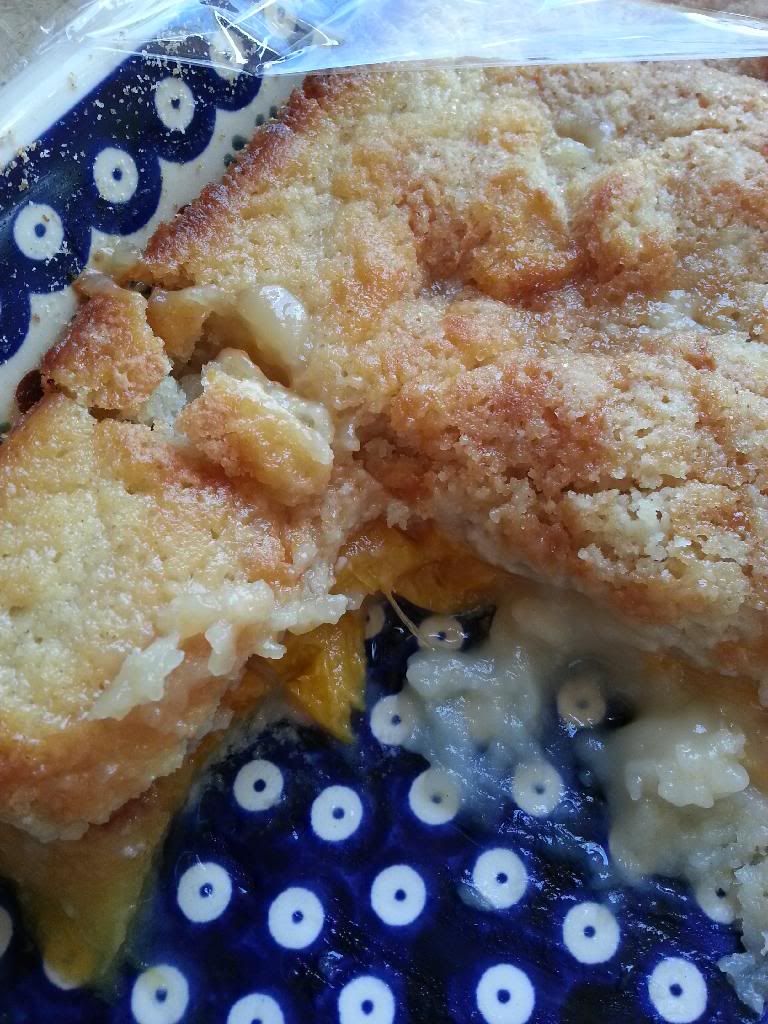 I'm off to continue to shake up my routine, which now, purposely, includes crafting.
Happy Friday,