First, let me say thanks to, so far, Donna and Kristin for their comments on yesterday's post. Yes, Donna, my intent is to share the work during my Creative Time, whatever it is. I'm hoping it not only keeps me accountable, but motivated. Kristin, I'd love to have a "ta-da" list! LOL. So you need to follow my lead, we can share what we've done and shove each other to stay with it.
I can see treating my creative time as a to-do instead of a reward is going to be a toughy though. I sat down this morning, coffee in hand, to map out my day thinking, "I'll start with X, gotta do Y. When I get Z done, I'll craft a little." Whoa! No. Back up. That "when" statement is no longer the way. I can see me shoving that craft time to the bottom of the list over something else and just never getting to the bottom of my list - and really, who does get to the bottom of their list? Some of that shuffling will be valid, but more often than not it's gonna be breaking the habit. I'm thinking that's when taking some small amount of time is gonna be necessary to break the cycle. Telling myself to knit two rows, or make a super simple card from the scraps on my table, or even trim the photos for the next page. Yeah, the words are great. The action hard. This is gonna be tricky, tricky.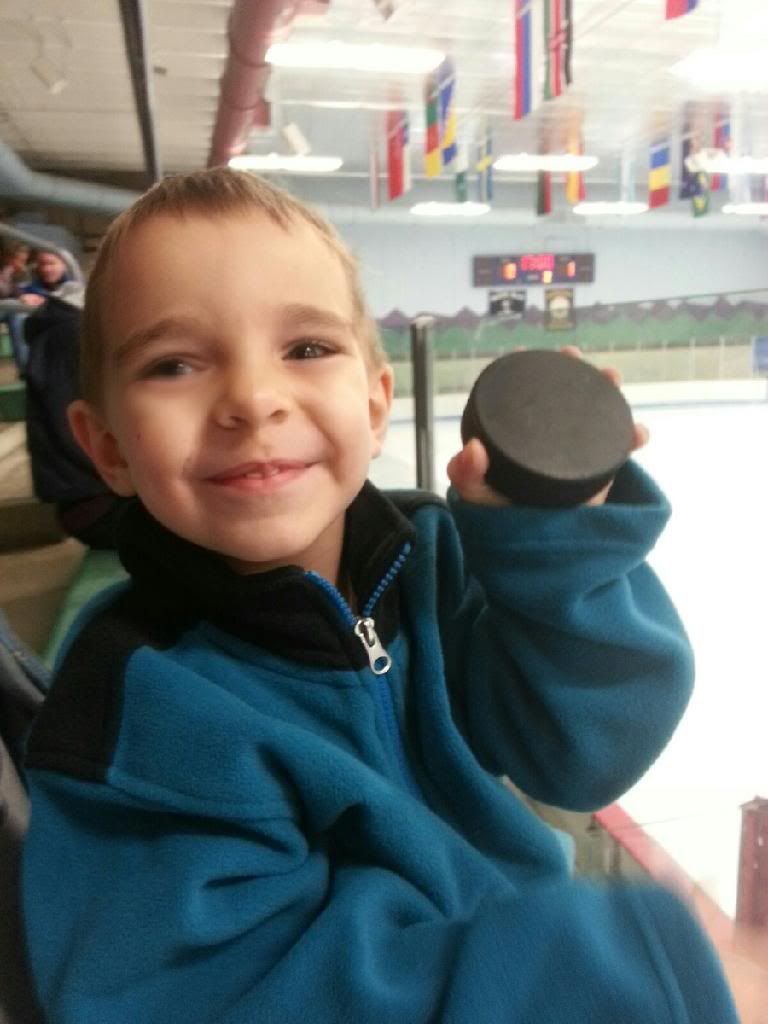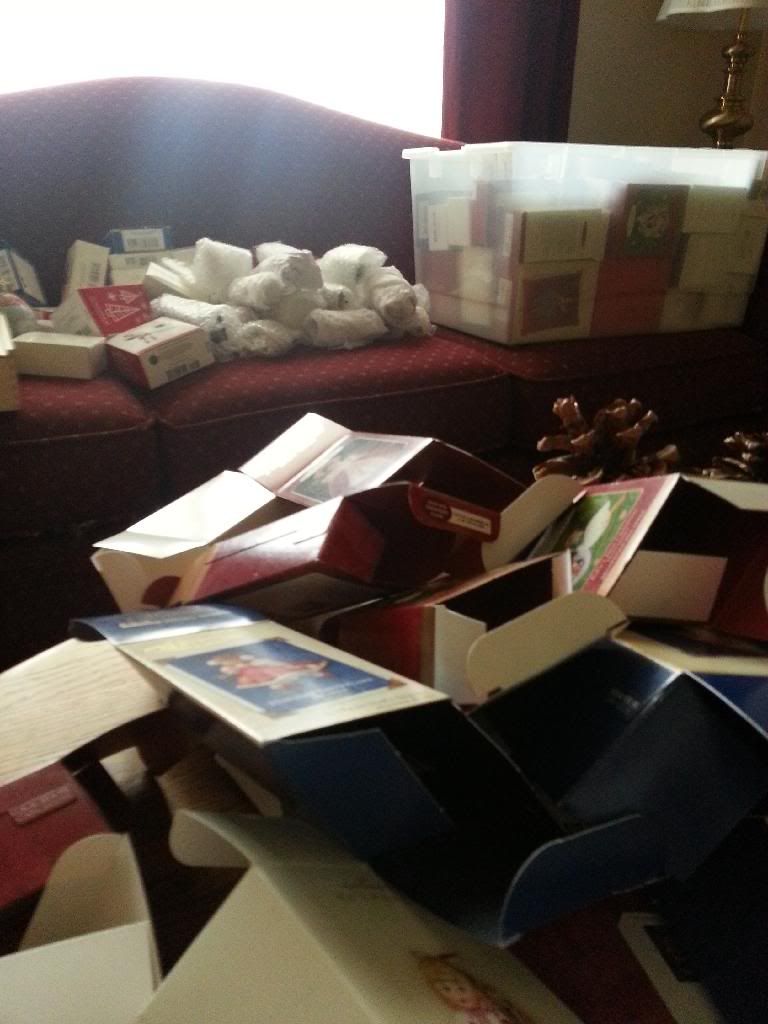 Last week was the first full week back into the swing of things after the holidays. And it started of sweet. Literally. Hubby left me a little surprise in my car cup holder one morning - black licorice (a fave!) and a sweet note.
After months of eating pretty much everything in sight (the scale don't lie), it was time to get back to healthier choices. Funky Monkey Baked Oatmeal seems like a good transition - nice healthy oatmeal and peanut butter sprinkled with coconut and chocolate chips. I love that I can bake it and eat from it all week. Reheats great!
The 5 y.o. loved the hockey game. Got his puck. Saw the Zamboni. RV won. What could have been better? Maybe some ice time, but still, it was a good night for hockey fans.
For Christmas I received a large, really large, stack of cookbooks that have been on my list for a bit. I've got them stacked next to the love seat in the family room and I'm flipping through them. For a couple years now I've been trying to make better choices in what I buy for the family - less processed stuff, no pre-packaged things, no sugar free, no fat free, more homemade. I cook more at home with fresh stuff. I may still have cookies in the house and I may still bake with white flour, but I made the stuff and I know what's in it. And I'm trying to thin my pantry of things I can make at home - like I typically make my own marinara sauce and cream of whatever soups. Hence, the Homemade Pantry cookbook. I'm only a few pages into it, but the author has me totally believing I can make cheese! She really does. Plus her little stories at the beginning of each item are fun. I'm going to attempt yogurt, hopefully this weekend.
Finally, are the piles of which I spoke of in Friday's post. The ornaments are packed up for the year. The tree is down and wrestled into its box. The living room is set to rights. All my previous dishes have been sorted out for chips, cracks and faded paint. After asking my daughter if she'd ever want any of the sets, I'm giving away one set for sure. Of the three being kept. . .for now. . .one is packed and ready for storage. The other two are in boxes, which are too big and heavy to move from the dining room. I've got boxes to divide them into now, so it's just a matter of sitting and doing it. The laundry room, aka staging for giveaways, is worse than ever. I need to get it inventoried and boxed for pick up early next week. Only to move on to another project in the house and have it fill up again.