As I'm pulling this post together, I realize it's been a good while since I posted my menu. But looking at the line-up below, you'd think all we've eaten is sweets. I actually looked back at my menus and found that I haven't done any planning from Pinterest, except for sweets. Most of the past couple weeks menus have come from Taste of Home magazines.
I usually make dessert twice a week. One usually lasts to put into weekly lunches and one lasts one meal. I made these Peanut Butter Chip and Jelly Bars on a Monday for dinner and the rest went into lunches. They were good. I used jelly I had on hand, which was Huckleberry. They were sweet and nutty. They would make a good after-school snack, too.
These Rainbow Sprinkle Cheesecake Cookies were another made-on-Monday dessert. They were really soft with that tang of cream cheese; they received raves from the kids. The only thing I will do different is cut down on the sprinkles. There are sprinkles in the dough and then you roll the cookies in sprinkles again before baking. That's a lot of sprinkles. Next time I'll opt to just roll them in sprinkles and leave them out of the dough.
I discovered that I froze a ton of berries last summer and put them up in our larger freezer. It's been cold and dreary and a taste of summer sounded good. I remembered this Angel Food Cake from the Food Network and mixed it up. I don't have a tube pan, and this one bakes up in a loaf pan. I've made it twice now and it's pretty no-fail for me; Angel Food Cakes can be persnickety. I topped it with a Blackberry (from our garden) and Raspberry sauce I mixed up.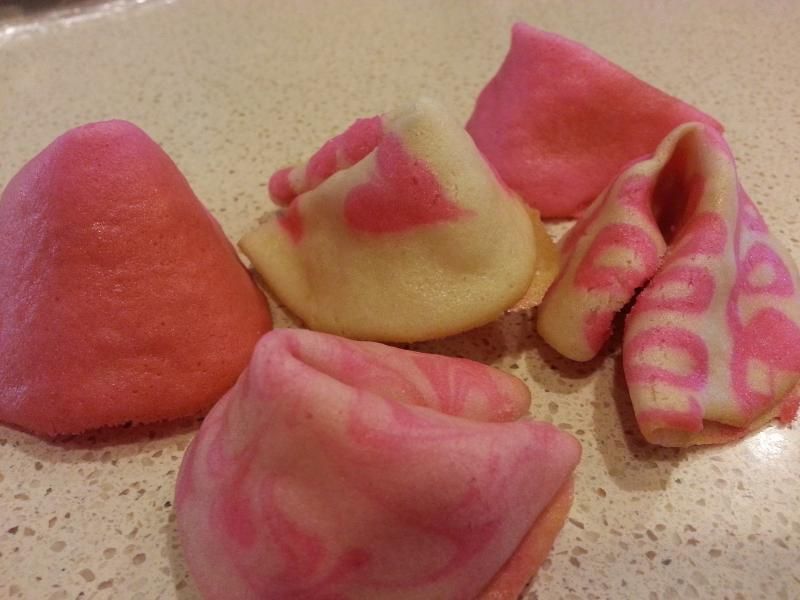 My 18 y.o. daughter made these Valentine's Fortune Cookies for her friends as gifts. She tucked little notes of what she loved about each of them inside. She did go through about three batches trying to get the correct thickness so that the cookie stayed pliable long enough out of the oven to fold in the "fortunes," yet were thin enough to cool to a crunch. She had to work fast and found that working with two cookies at a time was the only way to get them folded before they cooled to much. Once she figured out that they came together really quickly. She used a sauce bottle to add hearts, zig-zags and swirls to the cookies before baking. I can tell you from the tasting of the batches they were awesome. Almondy, light and crunchy; way better than anything from the local Chinese restaurant.
I don't buy a lot of seasoning mixes anymore. I'd rather mix it up, it's easy enough. I've got a couple taco mixes I've tried, this DIY Taco Seasoning is just another. I liked the flavor of this one, though the recipe didn't have standard of measure for a pound of meat, if you were making just tacos, so you'd have to start with a tablespoon and go from there.
I'm pretty sure I've mentioned I'm a Snickerdoodle fan, so when this Snickerdoodle Bar recipe floated up, I naturally had to make it. Oh my. Soft, chewy, cinnamon-y. Just like a cookie, but bar-easy!
Just so you aren't in total sugar overload, I pulled the link for this New Orleans Gumbo, which we had earlier this week. I love how easy it is to pull together and all the flavor in it. I use chicken thighs instead of breasts, but otherwise stuck to the scrumptious recipe.
They keep saying we're going to get a lot of snow, so I'm trying to decide if I make my menu and hit the store today or take my chances. Either way I see comfort food ahead for next week.
Happy Friday,