So apparently this (plus the additional 6" that fell after I took this photo) . . .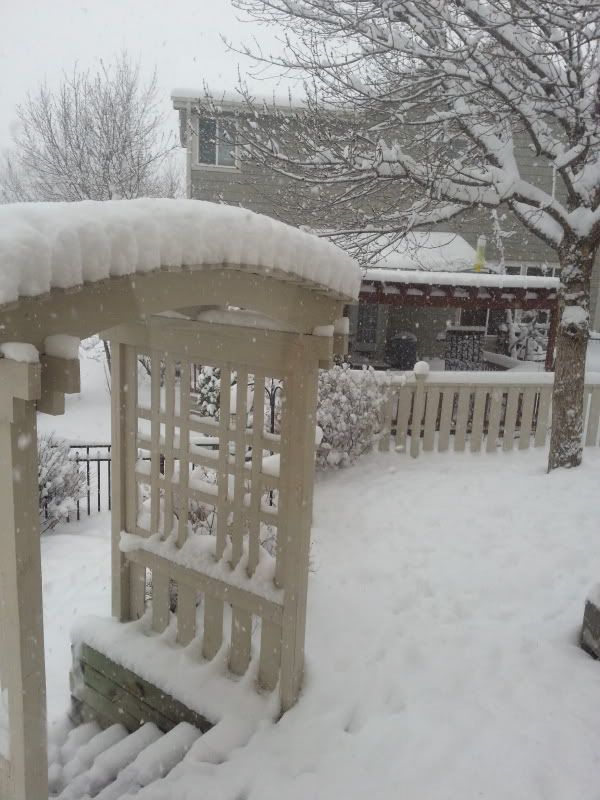 isn't enough to close all schools - like the big public districts - but a mere 2" is enough to shut down the city. The difference in the weather forecasts and how they talked about it on the news is crazy different from last week's "jump the gun" broadcasts. It's rather amusing.
Half my family is happily ensconced in pajamas, blowing off homework, temporarily, from the night before and glazing their eyes in xBox gaming. My boys are thrilled. My daughter? Not so much. Compound it with the fact that she had to be at school at 7:00 am to speak with her Biology teacher in prep for a big mid-term later today and she is one happy camper. Not.
But I was pretty happy - it made me smile - when I found this card on Pinterest. It is a fun and energetic (I need a lot of energy this morning) card and it's your inspiration for today. I'm not sure what it is about this card that caught my eye. Maybe it's because it's October Afternoon; my obsession Maybe it's the many layers, something I'm not particularly good at. Maybe it's the colors, a need given the 12" of snow covering our neighborhood. Maybe it's the slice of cake graphic on the brad, like I need more of this given the pounds I added over the weekend! Maybe it's just an excellent of example of using up some scraps, something I keep only long enough after finishing a layout to create a card,

Look it over, what attracts you? Identify it, then use it for your inspiration to create your own card, layout or project.
Load your link to the comment section by the end of the month - be sure to note what was it about this card that you used in your own project - then you're eligible for the April goodies!
Happy Tuesday,