It has been well documented here of my love for all things autumn. Everything from cozy sweaters, to comfort food cooking (like yesterday where I cranked out three loaves of bread, chocolate oat bars and lasagna.) I was reminded of yet another reason as I was heading to get the boys from school yesterday. At the end of our block is a small park - it used to be the orchard when our neighborhood was a farm, so many of the original trees remain, as does the creek that runs through the park. Anyway, as I drove toward the park the wind was picking up and blowing the leaves from the trees in wonderful cascade of color. I love driving (or walking) through those shower bursts of leaves. There's just something magical, to me, about them. I wish I had stopped to try to snap a photo.
Our weekend was relatively quiet. Friday night the two older kits went to the football game against a cross-town rival. Unfortunately, the rival won. Saturday we went to Olde Town's Scarecrow Festival where we wandered, watched the Giant Pumpkin contest, encouraged the 5 y.o. to run the "corn maze" and looked for the "best" scarecrow. (There's a scarecrow decorating contest and the entries are spread throughout the festival.) The scarecrows have inspired the 5 y.o. to draw them on everything; he's even made a book of just scarecrows.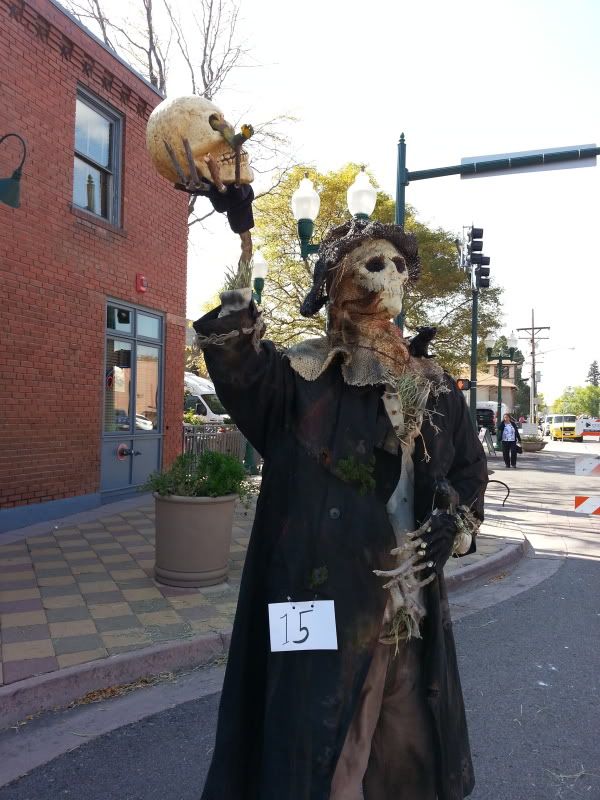 Today's Croptober challenge comes from a Pinterest search for "Halloween Card" where there are so many cute ones, but I liked this one which led me to PSA Stamp Camp's blog. I really like the mix of elements: the pleated paper, the punched top, even the machine stitching - I'd be the one using a pen to do my stitching, though. Instead of just using the color pallet, select one or more elements from the card and use them on your own layout, card or other project.
Link up your creation to the comment section for a shot at the October drawing. If you complete two or more of this week's challenges you'll get a little extra treat from me.
Happy Tuesday,