It was a pretty low-key week which is probably why it became an organizing bake-fest. Taking part in a four week clean the house challenge has me hitting all kinds of spots in my house. I've cleared out a trash bag-full of items from just one of the kids' rooms - and I'm not even done with it. Luckily I have a pick-up coming next week. We enjoyed our usual meals and desserts. Homework. Dressing-up for no particular reason. Notes on my bed. A family game of Sorry on Friday after dinner. I made my first sweet potato pie to pretty decent reviews. I had one "needs to be sweeter" from a boy who thinks sugar is a core food group, and a thumbs up from one who thought it was pumpkin.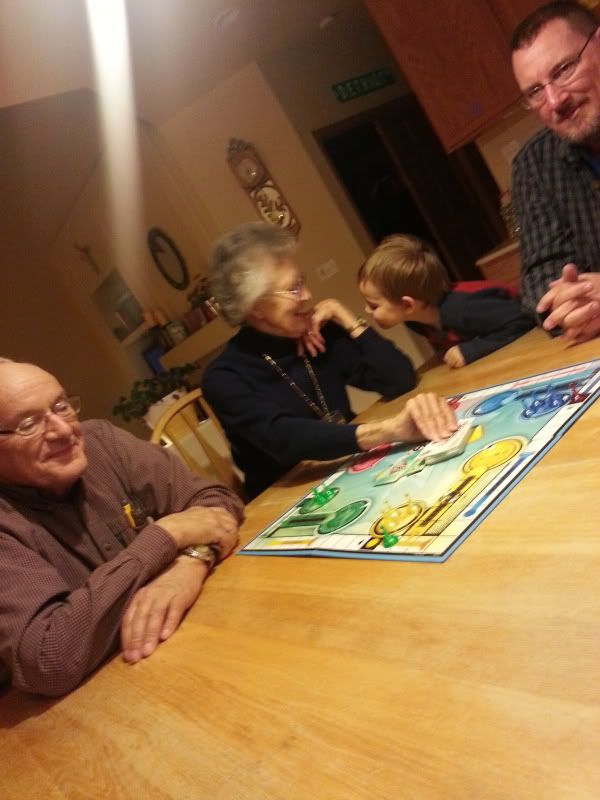 I didn't get to my studio this weekend - it was just too overwhelming to think about, let alone look at. But, on my list today is to deal with the kids' portion of our shared space. Maybe dipping my toe in will help. Scrap-worthy though my space may not be, this sketch has me thinking of hauling stuff up to the kitchen to work on. This cute sketch from PageMaps is part of your challenge today. Combine it with fall-themed items to create a non-fall layout.
A couple of the designers did just that this month. Like this layout from Maria Swiatkowski using the Fancy Pants line found in the Bigger than a Breadbox November kit.
Share your link in the comments and earn an entry into the November drawing.
I've got my to-do list, my mom is picking up the boys later, my hubby won't be home tonight and, as it's Tuesday, I have my sister coming over to knit for a bit this afternoon.
Happy Tuesday,