We were two kids down this weekend. It was the long awaited, and trained for, Rock 'n Roll Half Marathon and my two oldest were in San Diego with two of my sisters. They left on Friday and came back yesterday; race was Sunday. They both (well all four of them) did awesome. My son completed his run in just over two and a half hours and my daughter in just over three. I'm extremely proud of them and hope they are equally proud of themselves for their accomplishment.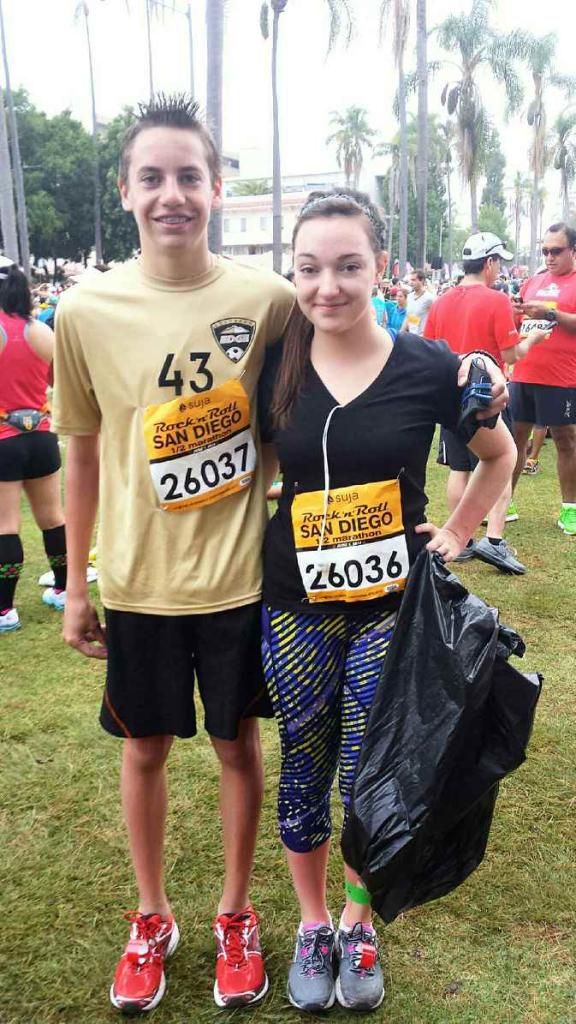 Their absence left a quiet house (four hours after their return home? Bickering, crying and general discontent, LOL.) Saturday hubby undertook the emptying, cleaning and rearranging of his office. It looks amazing now, but the clutter he created in the rest of the house while this was (and still is) going on was too much for me to take, so I headed to my studio for the day. The whole day.
I intended to complete my Big Picture StashBusters and get started on Sketch Solutions, but I was bit by the purging bug, instead. I had no control of the clutter upstairs, so I took control downstairs. I cleared off the top of my hutch by getting rid of old magazines, foam stamps and a stack of photo frames. I kept the frames, but everything else headed for the garage sale pile. I cleared my desk of sales receipts and invoices which are now sorted and put away. Flipped through, and ultimately tossed, several notebooks and other odds and ends that hadn't moved in a millennium. Product catalogs were purged and tossed. Current ones were dragged to the store room (which is now a disaster.) I cleared out my printer desk of old papers, notepads, software and other crap. I moved my scanner to the garage sale pile, moved my printer down a shelf to clear space for the Silhouette.
I continued working my way around the perimeter of my studio and came upon this. Anyone else have one of these or know what it is?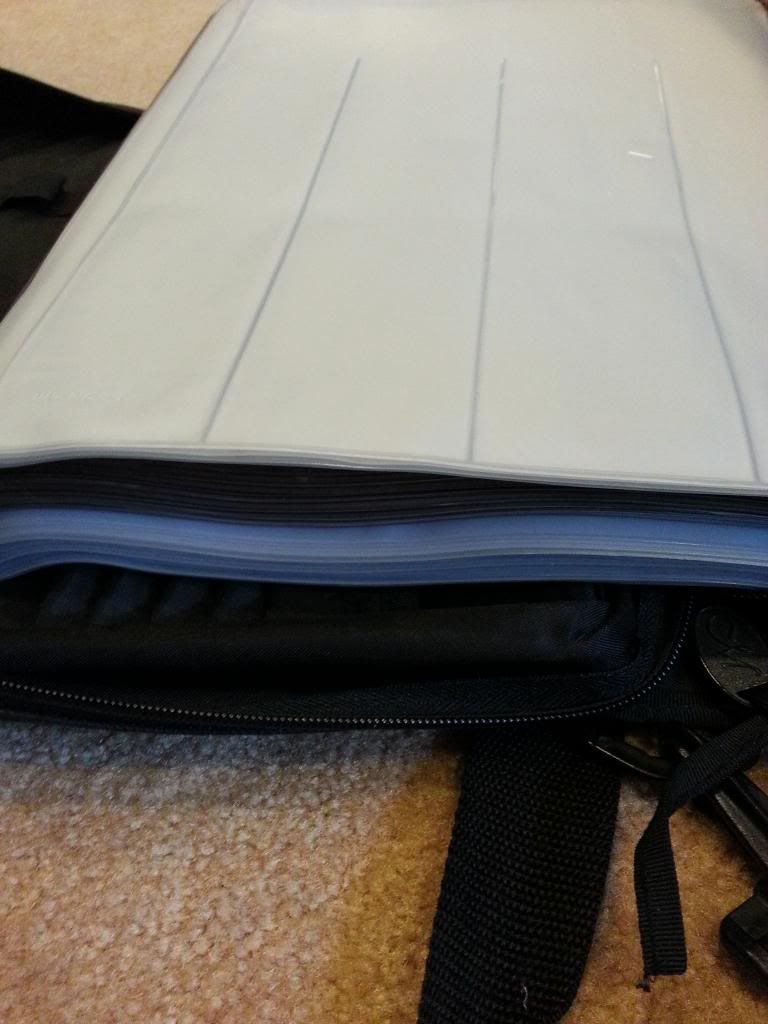 My scrapbooking hobby, like many, started at a Creative Memories crop. I was a consultant for a while, too. This is the CM Binder. I loved it for its organization. It was carefully sorted and filled - FILLED - with stickers; back when stickers were one of two embellishments out there. The other being diecuts. I haven't really used stickers on layouts in a while, alphabets being the exception. I did get in there, recently, to make a couple kid-themed birthday cards. And farther back the kids have created cards using them. Otherwise, they were collecting dust and cobwebs.
While flipping through and pulling out sheet upon sheet, realized how far the industry has come. You can't tell really well from the angle, but there are ton in there heading for the school. I did hold back a few sheets and they are clipped to the Clip-It! Speaking of, that horizontal space I cleared weeks ago, I'm happy to report, is still clear.
I kept going around and dug out some kits I had sorted a long while ago and set aside, but hadn't touched since. I kept what still resonated with me, maybe three or four of the dozen/dozen-and-a-half kits. I don't have another photo, but the kindergartners are going to be very happy. I moved out a bunch of blank CM album pages and opened up two slots in my vertical-storage cube. I pulled out the dividers and slid my two CropperHopper Photo Cases in there, moved one of the dividers over and have random sheets of cardstock down there (sorted in ROYGBIV fashion.) Feels really good.
Sunday, like ALL DAY Sunday, I took to my Big Picture challenges/lessons. I completed six layouts or 10 pages, depending on how you count. I started by completing my last two StashBusters challenges. Number 11 was a monochromatic challenge. I gotta say, when I read that I thought. . .there is no way. I don't crop like that. But, the class was all about the challenges, so I tried it.
I actually had different paper pulled - some old Black & White Doodlebug, but wasn't feeling it. Then I thought of the Little Yellow Bicycle Winterings paper from a January Apron Strings kit, but I couldn't find it. I ended up using one of the kept-kits I'd just sorted: Basic Grey's Blitzen line. The line was in an Apron Strings kit way back when. I looked for a date, but only found 2012 and I'm pretty sure that's the digital release, the papers themselves I think are a bit older. Since it was just papers, I dug into my stash for the embellies. It turned out rather well. I like it. I'm not sure monochromatic will become routine, but it was fun.
Happy Tuesday,