How do you find make the time to scrapbook?
This year I decided to experiment with making my scrapbooking more of a priority. To make it a "to-do" rather than a reward. I hear people complain all the time about lack of time and not having time for this or that. I hear the, "I need to get x,y and z done so I can scrapbook." I've said similar things to people and to myself. Then, I realized there was always going to be something coming after x, y and z. There was always one more thing to take my attention. There always will be something else to do. It was time to move away from rewarding myself and time to make what I love to do a "to-do."
It was time to stop using time, or lack there of, as a reason for not scrapbooking, or cardmaking, or doing something else I enjoy. We're all busy with all sorts of things, but I've come to the realization that if you want to scrapbook (or make cards, or knit, or whatever) you'll figure out how to do so. . .I hesitate to use the words "make the time" because of the connotations that are read into that, but it's true. You'll figure out where the time will come from when creating is your priority.
I gave up watching the news. . .one, it's utterly depressing and who needs to start or end the day with that? Two, I think it was truly affecting my mood. All that sensationalized, so-called "news" either ticked me off and I was mad all day, or it depressed me to a point I wasn't doing much of anything. I watch the weather and that's it. It's funny how much time you can spend being angry or how depression cuts into your "doing" time.
Do I scrapbook every day? Heck no, though I'd like to. But I am playing more this year than I have in the last several years. It's a conscience decision. Some days it means blowing off, or doing minimal housework. Some days it means I'm doing extra, so that I can play the next day. Some days there are higher priorities than scrapbooking. That's what happens with priorities, there's always going to be shuffling, the key is to not always shuffle what you love to do, to the bottom because then you're back in the "Reward Zone."
When I first started this experiment, it was hard. Not gonna lie about that, it was really hard to not continually push crafting to the bottom. Not to come up with reasons why I had to push it down the list. Hard to just go to my space and create, and ignore the clutter that would usually need to be dealt with before I played. Some days it's still hard. Some days I make excuses to not create. The difference is I'm trying to recognize my past habits and call them what they are. . .excuses - legit ones, like I'm just too tired or not so legit ones, like the my work space is a disaster; it's always a disaster, so what's new? Now at least I'm naming it, whether I still go down to create or not, at least I know why.
Here are some other tips:
If you want to play on a weekend or after dinner, make life easy and utilize your slow cooker and/or recipes that you can make and people (i.e. family members) can serve themselves. A slow cooker is the tool every scrapbooker/crafter needs to have in their arsenal - they'll make everything from soup to lasagna, from enchiladas to steak sandwiches. Search your favorite recipe sites, blogs and Pinterest for simple and quick recipes. Check out Friday posts here for recipes I've tried from Pinterest, like these.
If you enjoy watching TV or you monitor shows with your kids, take photos to sort or edit and do so while you watch your show, or your kids'.
Look for opportunities to multi-task. Do you stay at sports practices? Take photos you'll be working with soon and brain storm titles, journaling or even the layouts themselves. Get an inexpensive notebook to keep with your scrapping stuff and grab it to go when you're working on the road.
If you don't have a dedicated work space (which sometimes isn't all it's cracked up to be because dinners or guests don't force you to clean up) look for a portable "desk" you can layout your work on. There are tools on the market like this, like this magnetic one from We R Memory Keepers. A small scrap piece of wood, lap board, even foam core boards will work. Make your own magnetic work table by using a piece of scrap sheet metal (cover the edges with rolled fiberfill and duct tape to cover the sharp edges) or find a magnet board (some white boards are magnetized) at your local office shop. Even a baking sheet will do the trick. You can layout your card or page and when you need to clean up, just simply lift the board and slide it out of the way.
Work in assembly line processes - take 15 minutes to select several sets of photos. In your next window of time, select kits or papers to go with the photos. Next free time look for embellishments (unless you're using kits -ahh, see another reason to have Apron Strings kits - you're set for everything.)
Set up a standard time. If that means leaving the house, find a buddy. You're more likely to go if by not going you're disappointing someone.
Write your time on the calendar, and keep the date with yourself. Notify any and all with ears in your home of your intentions.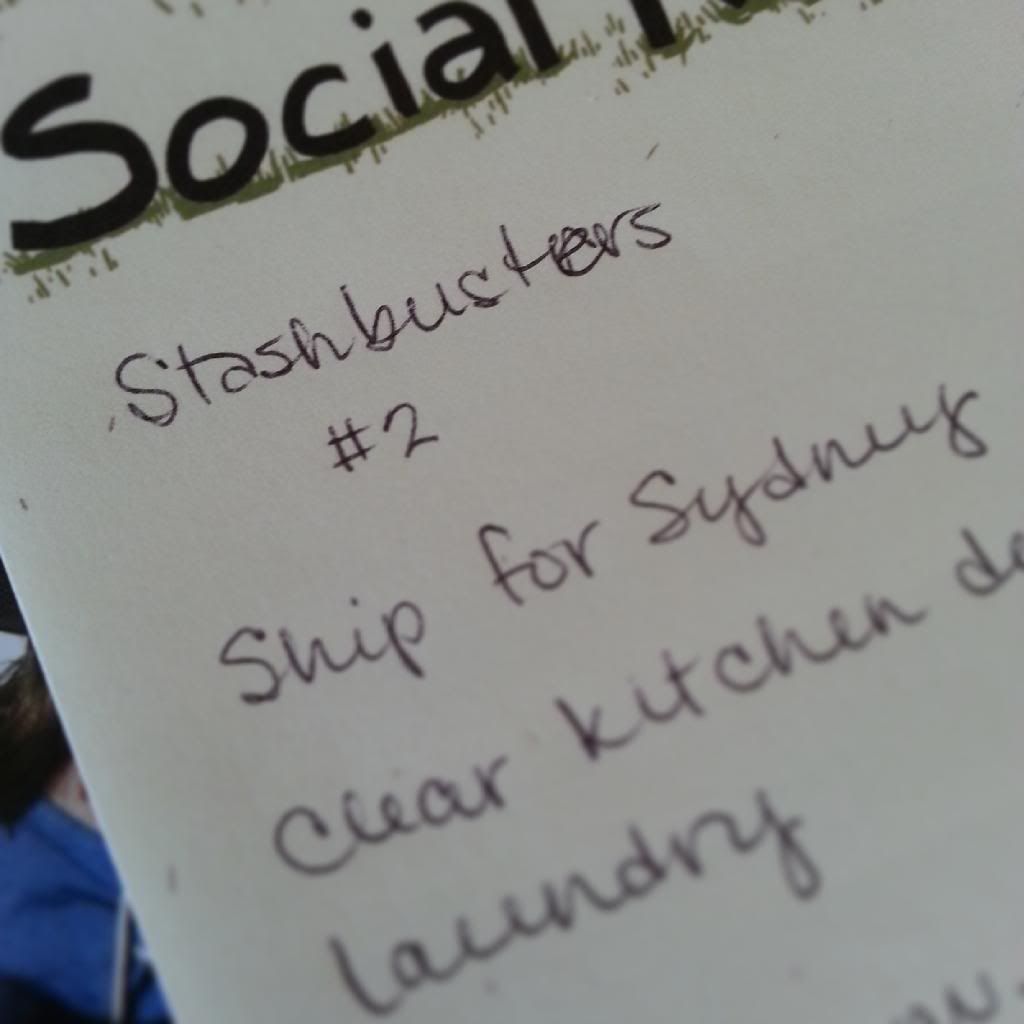 Put it on your weekly to-do list.
I have to say, on the days I'm productive in being crafty I definitely feel better, my mood is better and I feel lighter. If I used up some older stash. . .bonus!
Now, I challenge you to make your crafting a "to-do" and reward yourself by actually doing it.
Go. Create.