A couple Friday's ago I shirked by cooking duties and headed north with a friend for a little creative time. I sat most of the day, instead of planning. Then a couple hours before leaving I decided to get my stuff in gear. I had initially wanted to work on one of my December Daily albums, but I could not find the pictures I set up for printing. I don't know if I printed them already (guess I need to add "sort out crop bags" to my list), the file was lost when I switched computers (doubtful, hubby is diligent in full back-ups), or if I was dreaming. I'm thinking the dreaming is a pretty sure bet - I was probably setting up photos for something else and just got confused; also a sure bet.
So instead, 15 minutes before I left I grabbed some photos, paired them up with Apron Strings kits, jammed them in my bags and ran out of the house. I grabbed a lot of fall stuff, including this Doodlebug Halloween Parade kit that was in the October '13 Smaller kit.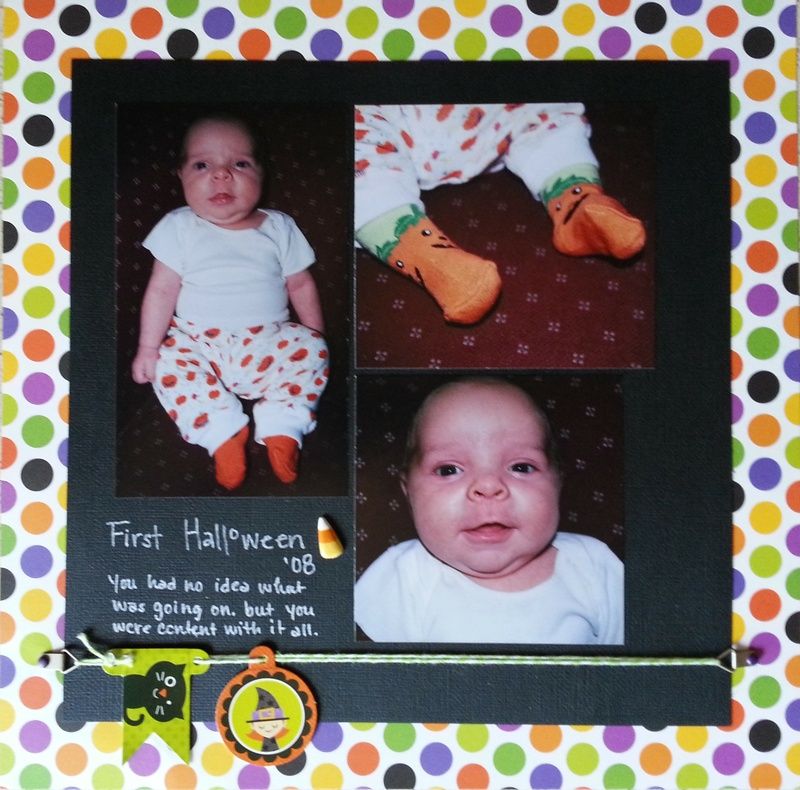 I paired up the fun and bright paper with these First Halloween photos of my now 6 y.o; he was just over a month old at the time. We will pretend I'm a good mom and that this isn't his second page...ever.
I kept it simple and just trimmed the photos. The background was pretty busy, in combination with his photos, so I blocked the layout on black cardstock and then put that on the patterned paper. This is a great trick when you like the design of a given paper, but the combination of the photos and the paper just don't play well together. I've heard you can trim out a chunk of the back paper to save and use later, but I'm not that motivated.
The tags came with straws (they make picks or flags) but I opted to hang from the baker's twine like pennants. I have a couple full sheets of patterned paper and a very limited selection of embellishments left. The papers I can probably add to another Doodlebug line, as their color pallets stay pretty consistent. The remaining embellishments will get sorted out.
I like the layout. I feel even better than my sweet boy now has two pages to call his own. Someday I sincerely hope he will have three.
Happy Thursday,