Yesterday I said this month's challenges would center around projects we wanted to get done. I said I was going to partake in Cathy Zielski's
30 Days of Thankful.
To that end lookie what I picked up. . . I'd like to think this has me committed, but well. . .you saw my
Take 12
album in my studio space clean-up post? Yeah it's still over there. But having this album for this project makes the guilt that the project is incomplete work better - and having paid for the designs to print doesn't hurt either.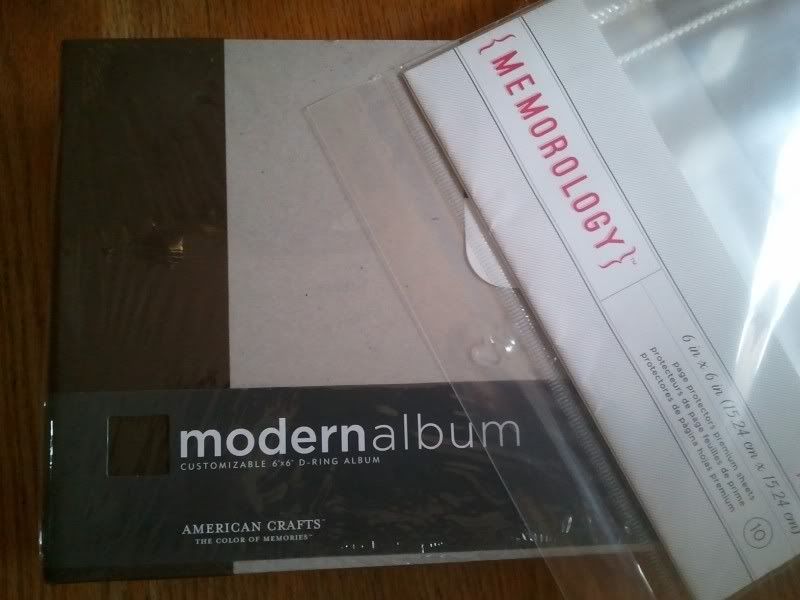 I didn't post the projects that I want to try to accomplish this month:
The aforementioned Take 12? Yeah, I'd like to get at least a couple pages done. Get that nice, "I'm gonna finish this" rush.

Take 12 photos printed to date. At least if they're printed I don't have that excuse.

Print photos from last year's

December Daily

(since another round of this project is coming up quickly, it'd be nice if last year's was finished - the album is made, just need to stick the photos.)

I have Christmas cards that I started several years (yes, YEARS) ago, that I'd actually like to finish to send out. I believe they are missing the sentiment stamp. Sad. But true.

My "Boo" decor piece never got finished, so now it's going to become "Joy." I have scraps from one of my fave lines, so it's just a matter of doing it. I think it'd actually come together quickly if just sat down.

It's not paper-craft related, but I want to finish my knitting project.
Is anyone else seeing an "unfinished" theme? Anyway, I think that's enough - outside any scrapbooking I may do. Let's see how we all do. If you haven't left your list o'projects and you want to take part, you can leave your comment attached to the post
HERE
.
I am reading them and looking for ways to help you complete your lists.
Rake Up#2

(you know as in rake up the leaves, or in this case the projects)

- Thank you
Pinterest
, because a quick search led me to this adorable post from
Tip Junkie
with enough fun projects that I see my own list growing; like creating a banner like this.

So your challenge today is to pick your first project to tackle and then gather items you need to complete it.

If you have a Fall Banner as your project, maybe this will help you get rolling on it! If you're hosting Thanksgiving, how cute would these be for place cards? Or maybe you have enough in your stash to create something similar - the initial of the guest stamped or printed on a tag, a little punched leaf, or button leaf and a fall word. Done. Check-off. If your goal for the month is simply to scrapbook use the colors to inspire your layout for today. Or maybe the elements can become embellishments on your layout or card. Note: As you complete your projects, leave a comment under any Rake Up post sharing what you completed. If you've got a photo to share, include the link.
I'm pretty sure I have nothing much on my calendar this weekend, so my hope is to get some serious work on my to-do list, both the crafty one and another more pressing one.