This week has just been one of those weeks. The little corners in the house that collect clutter, seem to be piling up and are starting to annoy me. I don't feel like I've been home. I haven't, other than knitting on Tuesday, created anything. There are a half dozen things at home that need to be finished. And in general I just can't seem to get focused. I'm sure I'm not alone - we all have weeks like this. I'm hanging in there until next week, when all the kids are off school and the days should be calmer - though I expect the house won't improve.
A little look at the November Smaller than a Breadbox kit (which are on
sale
now, if you don't have an autoship). Created by Kristin Perez using the Smaller kit, the Jillibean Pumpkin Chowder line. I love how summery this layout is. The bright green and pops of orange. You'd never know the other sides of the papers are all about fall!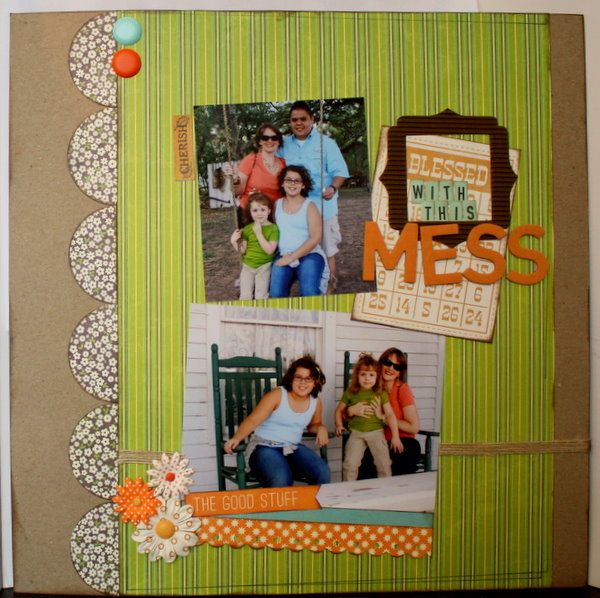 Rake Up #11

- I was scouting around for ideas to deal with my Take 12 album, but got side-tracked (see no focus) by this totally cute card over on the
SRM blog
, created by Michelle Bertuzzi. It's so jolly and festive. And hello, head-slap moment for the snowflake punched in green to look like pine boughs! Break down the components of this card and it's a super simple, super cute look. So, if you're looking for Take 12 layout ideas, this card reminds me to just keep it simple. Card maker. . .well right here in red and white and green. Layout creator. . .color scheme, layering, pull out those long-forgotten scallop punches or scissors.
Since we're half way through the month, leave an update today on how you're doing and where you're at. My update:
Take 12 album - no layouts made

Take 12 photos, I believe I have them printed out through April - I might have gotten May, but I'd have to look at the pile.

December Daily 2011 photos - ah, no. But if you'll recall my impulse purchase netted me my 2012 album. That will now need to be assembled and added to my to-do list.

Christmas Cards once started are still unfinished

Conversion of previous "boo" decor to "joy" . . . not too much joy going on just yet

Knitting project. . .in progress. Last class is tonight.

30 Days of Thankful is on track - I need to print out the photos for this week and get them in the album, but on target.
Not bad, actually. I'm okay with where I am and that's the point isn't it. Not necessarily checking off every item, but moving forward.
If you haven't left your list of Rake Up Goals and you want to take part, you can leave your comment attached to the post
HERE
.
Note: As you complete your projects, leave a comment under any Rake Up post sharing what you completed. If you've got a photo to share, include the link.
Happy Thursday,