It was cold this weekend. Very cold, like 20-something and with a windchill of -2. We had snow - big, fat, fluffy snowflakes that just drift quietly down. It was awesome. I should have been enjoying the weather with a knitting project on my lap, curled into the corner of the couch with some sort of hot-something-or-other. Instead, my knitting stayed in my sack (Matthew decorated it by writing "mom", though it looks more like 'mqm'.) Granted I was busy with other things (some creative, like catching up my 30 Days album and some not so much.) I recently lamented that I typically have to wait for weekends to tackle my creative Rake-Up to-do list, which is true, so why. . .why didn't I knit?
Because I'm knitting in the round, a technique I've yet to grow as fond of as others in my class. Because I'm two rows away from having to read knitting code for my next instructions. Because I know very soon, not only will I be adding my next color, but I'll have to do it in the aforementioned round. It puts me way behind for tomorrow's class, but I can be good under pressure. Sometimes. Sort of. I'm thinking I'll be the blanket/scarf kind of knitter - though I've been told it's very boring knitting, but I think I can live with that. Elsewhere, my over-achieving sister has cranked through her class project, has downloaded three other patterns (started one) and has purchased a kit to make ornaments. I think I hate her. (j/k if you're reading this. . .sort of.)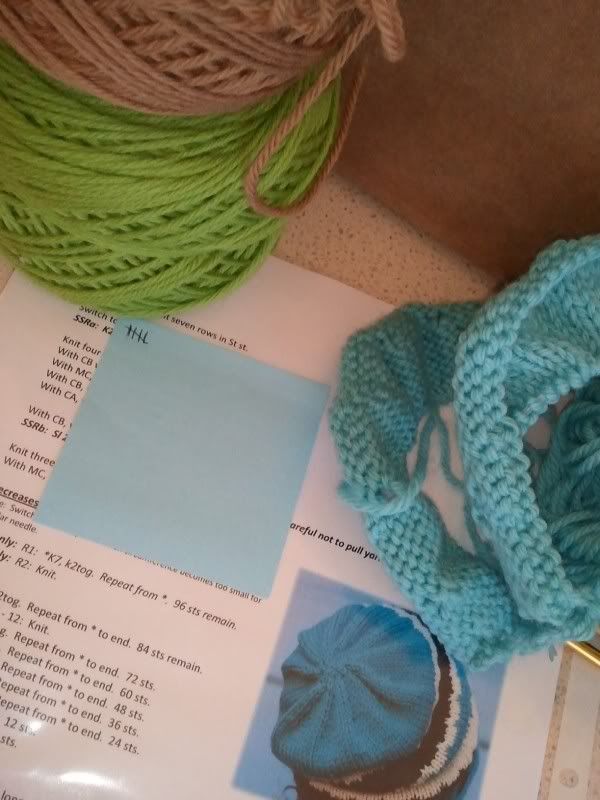 November kits are shipping today, and if yours is in the mail, you could very soon be creating a layout that looks like this one done by Maria Swiatkowski using the
November Smaller than a Breadbox
kit - the Jillibean Pumpkin Chowder line. Grids are a fabulous way to deal with multiple photos. If you don't have a kit in the mail, you can most definitely pick one up today!
Rake Up #8 inspiration comes from the
Doodlebug Blog
- I still enjoy their bright colors and fun papers. This cute little project just couldn't be passed up. I see these little pleated circles all over the place - they're easy to do and are a fun addition to a layout or card. A couple bigger circles on a Fall or Thanksgiving banner would be adorable. Creating the little pumpkin for your fall layout - cute! Need place cards - well how easy it would be to add this little guy to them. Scale them up or down to suit your project.
Today is baking day: Bread sticks to go with the Chicken Soup are already rising. I need to make a second attempt at the pretzel rolls before I either stick with the recipe or move on to find another. I am also making
Pumpkin Gooey Butter Cake
for dessert - I've had just straight up Gooey Cake, and oh my! And I'm also prepping breakfast for the rest of the week with
Pumpkin Oatmeal
- though I think I may be making it strictly for the topping.
With much to do and little time to do it. . .
Happy Monday,