I never intend to skip out on a day of posting, but there are days that it just happens. I try not to beat myself up too much, but I hate it every time and feel like a big dork for missing a post. I wish I had a good excuse like I was working on fun stuff, conquering the Take 12 album, or finishing up those 4 year old, half-finished Christmas cards to send out this year or any number of other fun crafty items. Shoot, even that I de-cluttered my entire home. But that's never the case. :(
Rake Up today is for those tackling their crafty spaces. Purging and cleaning out should be a task you undertake on a regular basis. It not only gets you in touch with what you have on hand, but it is inspiring to look at it all, as the mind races with all kinds of ideas on how to use it. It's also good to let go of items that just don't do it for you anymore - there are plenty of places to donate your older products. It also cuts down on what you have to look through. Cuts the guilt of having and not using. The tip today for helping you do this comes again, from Professional Organizer,
Geralin Thomas
, and the informational series she posted on her blog. Ask yourself, "
How much did it cost? There's a big difference between deciding to toss a complete set of Copic markers (price: $6 each) and a complete set of Crayola crayons (price: $6 total). If you invested heavily in the supply or tool, give yourself the benefit of the doubt and hold onto it. If it didn't break the bank or was free, toss with abandon."
If you are not in the organizing groove then this little holiday treat is for you. This tag created by
Tomi Ann Hill
, using the
November Card Kit
, is darn cute (love me some pom trim.) However, take the design and blow it up for your Christmas cards and you have a great, easy to pull together idea for the bulk of your cards - seriously, look . . . Cardstock base, white pen stitches, swatch of double-sided paper with a corner fold, a brad, a cardstock circle with the sentiment and then another strip of patterned paper across the bottom - even without the pom trim it's totally simple! Make several of them for gift tags or for tags on holiday treats and hostess gifts.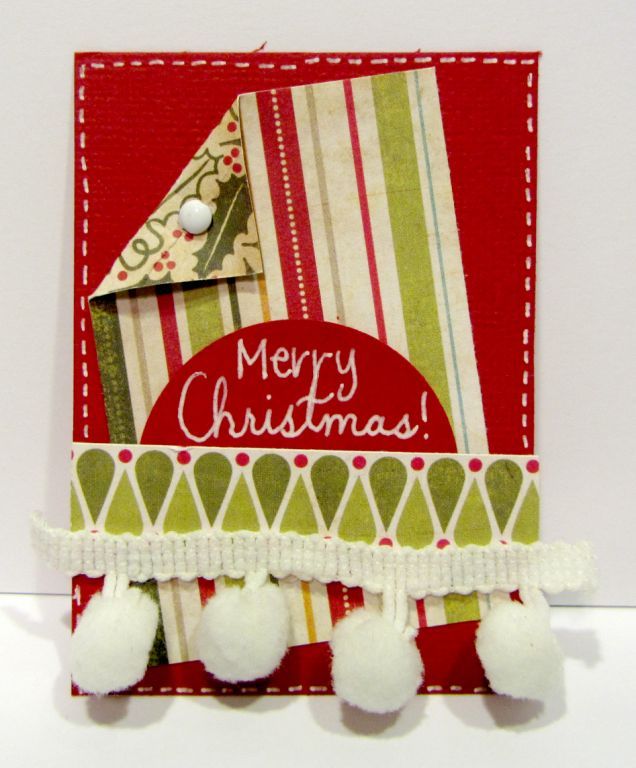 Note: As you complete your projects, leave a comment under any Rake Up post sharing what you completed. If you've got a photo to share, include the link.
Happy Thursday,