Big Picture Classes
is celebrating their seventh birthday. I've taken several classes and there are dozens that appeal to me every year. But I try to be realistic in what I can actually accomplish as I'm not so great at the self-paced or going back and finishing up if I've fallen behind when the class ends. There are a couple classes coming up that I'm contemplating; 12 Days of Christmas being one of them. They have broadened their selection to go beyond just scrapbooking - exercise and health, sewing, techniques, photography and more. On one of their blog posts this week, they shared the following journaling prompts and I thought it'd be interesting to fill-out:
7 everyday things I couldn't live without (no people, see below): 1. my recipes, 2. my "lounging" sweater, 3. my DVR, 4. my slippers, 5. my hair dryer, 6. something crafty to do, 7. something to read
7 of my favorite songs (these change often - except for White Christmas): 1. White Christmas by Bing Crosby, 2. 50 Ways to Say Goodbye by Train, 3. Some Nights by Fun, 4. Pour Some Sugar on Me by Def Leppard, 5. Kyrie by Mr. Mister, 6. Celebrity by Brad Paisley, 7. Fireman by George Strait
7 adventures I want to have before I die (no places, see below): I guess I'm not the adventurer-type because I am coming up empty
7 pastimes I never tire of doing: 1. scrapbooking, 2. cooking, 3. baking, 4. cross stitching, 5. wandering around Pinterest, 6. watching my kids play their chosen sport, 7. watching movies
7 treats I could eat every day (and probably do): 1. Scones, 2. Baby Ruth, 3. Potato Chips, 4. Coffee, 5. Chocolate Chip Cookies (homemade), 6. Pumpkin anything (this is probably just a seasonal thing), 7. French Fries. . .hmmm. . .not lookin' too healthy, though it didn't say "healthy treats" just "treats"
7 people I'd be lost without: 1. my husband, 2. my kids, 3. my parents, 4. my siblings, 5. Jennifer, 6. Maggi - that totals way more than seven.
7 places I want to visit: 1. Alaska, 2. Hawaii, 3. Ireland, 4. Turks & Caicos, 5. New England
Today's

Rake Up

inspiration comes from Nancy Longo using her
Bigger than a Breadbox
- the Cosmo Cricket S'More Love line. First, I love her bunnies. Second, another great example of how double-sided papers give you so many more options. This line, if you look at the main theme rather than the color scheme, is outdoorsy-campy, though it works perfectly to house Nancy's fluffy family. If your Rake Up list includes layouts, her grid is a design that'll help you crank out your page for today lickety-split. If you're making cards the dimensional butterflies may inspire you add dimension to snowflakes, Santa faces or Christmas trees. If you're prepping for Thanksgiving the colors are great for your table-scape, invites, dish cards or home decor.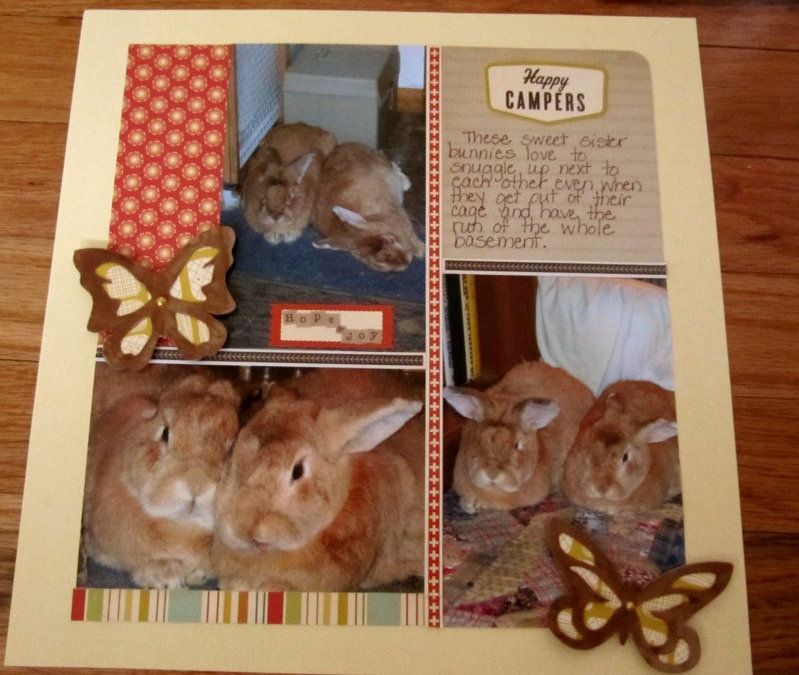 If you haven't left your list of Rake Up Goals and you want to take part, you can leave your comment attached to the post
HERE
.
Note: As you complete your projects, leave a comment under any Rake Up post sharing what you completed. If you've got a photo to share, include the link.
The weekend is here and as usual I have hopes of getting to my own Rake Up list. The weather is supposed to be cool, we have nothing really on the calendar. . .so, as usual, hope springs eternal.