It's been a pretty crappy month, February. We've had pneumonia or some mucus/lung collapse thing with the 5 y.o., who then pinched a nerve in his neck. We've had the accident. We found out yesterday that the car has been declared totaled, so bring on the new car search - blah. Yesterday I experienced deja vu (and not in a good way) with the 13 y.o. during a circuit of Dr., x-rays and antibiotics because he, now, has pneumonia. There's also been a couple other not-so-fun things sprinkled in just to make me want February to be over. I'm over it. O.V.E.R.
One of the few bright spots is that the hubs and I are heading out of town for an extended weekend. We'll leave later today, with my parents taking over with the kids. I had to tell my mom yesterday about the 13 y.o. and remarked, "You know we haven't had you watch the kids in 10 years (yes, sadly that was the last time hubs and I went away together) and added to the chaos of just having all four of them, you get the sick kid, his meds and a week's worth of missing school work." Nothing like that little grey cloud floating over your upcoming weekend. Am I packed? No. Are the kids packed? No. Well, one in four is - and the one who is packed, did that this morning - God love him!
I did manage to squeeze in a little crafty time last weekend and have almost used up January's kit, just in time to dig into February's. (I'm tempted to take it with me for the weekend, but we'll see.) I completed this traditional layout using the Smaller than a Breadbox kit - the Chic Tags line. I cranked out two more layouts and a few cards too - more on those later though. And note - I used my Cricut for the title. For those who know me, know that is HUGE!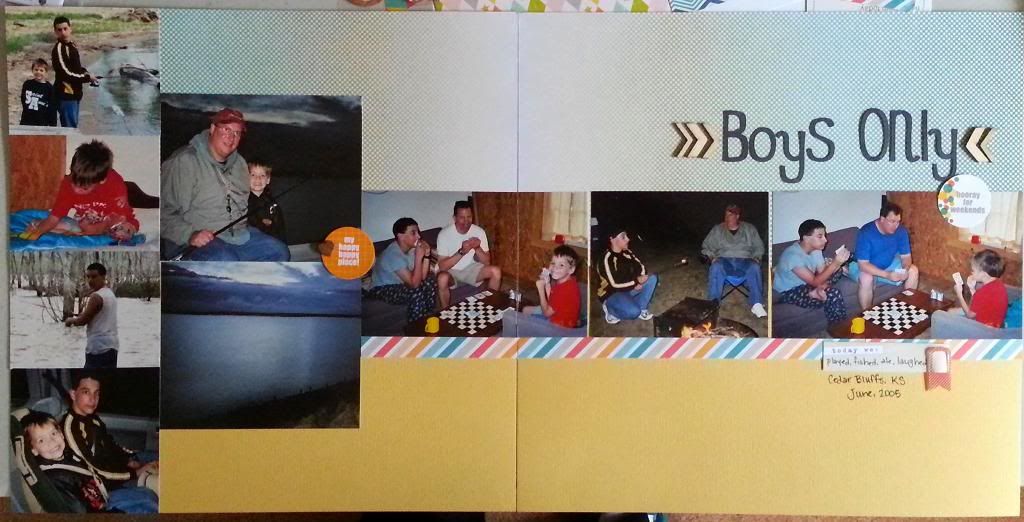 I may or may not be able to get a post up tomorrow - I'm supposed to be on a snowmobiling "adventure" starting early in the morning. If you follow me on Instagram, you can see if it really will be fun. Maybe as I'm icing muscles and sucking down Motrin, my fingers will be thawed enough to type.
Happy Thursday,