Remember these? These sold in too-many-to-ever-use-in-a-lifetime noise makers? I ruined a kitchen table setting a couple of these. Remember sitting in a room at a crop when more than one scrapper was setting them?
I knew I had them. . .a lot of them. Now, thanks to StashBuster Challenge #6 (which is only waiting for these bad boys) I know how many "a lot" is. A. LOT.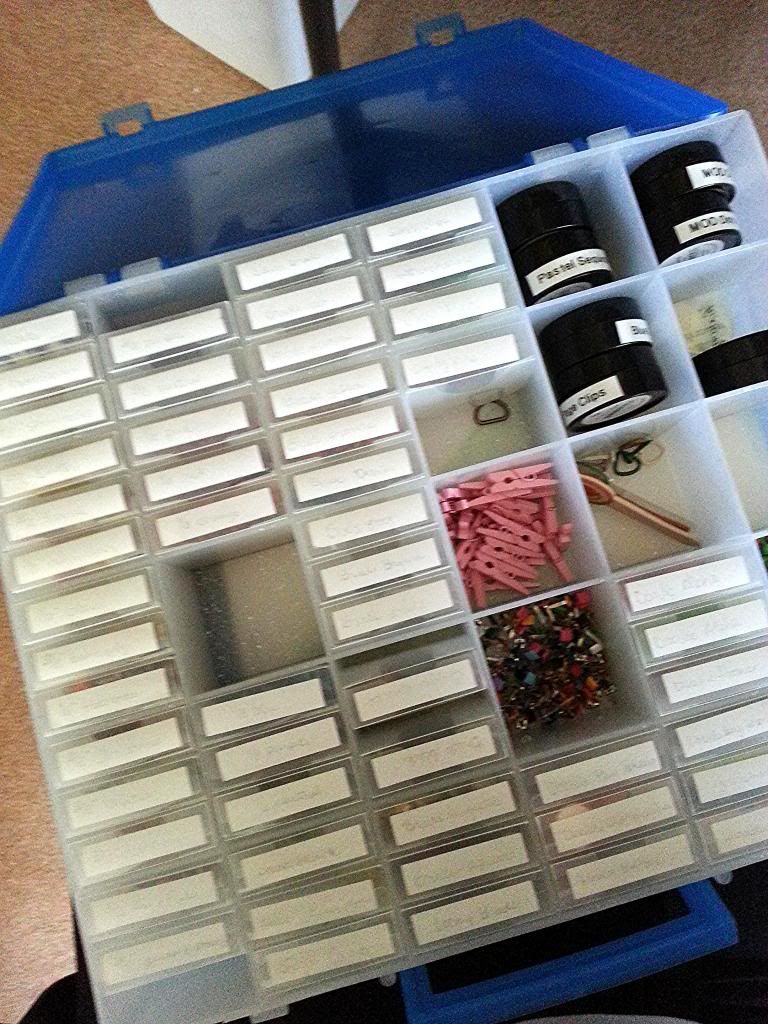 Yep, all nice and organized too. And I found other small blasts from the past in here, like Doodlebug Tokens, SEI Epoxy Dots, Karen Foster Tags, more brads and other small items. Which begs the question, which of my solutions for storing small things do I use. I'll leave the eyelets - they take up pretty much half of those boxes and they're sorted by size, shape and color. Because I clearly forgot I had more than eyelets in here, I have buttons and brads in jars as well. Which storage do I use? I'm a see-it-to-use-it person, so I'm leaning toward the jars. But my organized personality really likes the breakdown I have with the little boxes.
My quiet schedule during the week comes to a halt for Saturday. I've got a thing in the morning (watch for a post later about that). We have church in the evening. And then I'm hosting a Pampered Chef party right after that. But, the really big thing this weekend is that it's prom weekend for my daughter (pics next week). Her dress is being made by my mom. She has her hair appointment set up for tomorrow morning. She had her nails done yesterday. We hit the store last night to get her shoes and jewelry and other odds and ends - that trip cost more than her dress! By 3:30 Saturday afternoon she'll be on her way with a boy she's known since kindergarten. I'm excited for her.
Because I didn't post last Friday and I didn't menu plan from
Pinterest
this week, I only have one recipe to share. These
Tuna Cakes
were really good. Moist and flaky and they held together well, something that can be annoying in a seafood cake. I hate it when a tuna or crab cake falls apart. I doubled the recipe and didn't make the peas for the side. My kids ate them without prompting; even liked the sauce! As is typical, when I've been on a pinning run, it usually signals a time to menu plan from my board. I'll see if I can pull that off over the weekend.
It's supposed to be gorgeous this weekend. I have several StashBusters challenges to catch-up on; we're in the final week. :( And plenty of pictures to take.
Happy Friday,