I hope your weekend was a pleasant one. We enjoyed a nice Easter weekend, though hectic (the hectic schedule continues into this week.)
The half-marathon trainers headed out for a long run on Saturday morning. There was cleaning to be done since we were hosting breakfast/brunch for 22 on Easter Sunday. There was a menu to figure out. There was the trip to the store to get menu items. We had egg coloring to do. We had a coffee cake to bake. We were attending Easter Vigil Saturday evening.
Sunday, here, dawned gorgeous. The grass was greening up - at least in our backyard - and trees were starting to bud. The bunny, with his cargo, made a stop at the house. There was searching and seeking to be done, followed by shoving a ham in the oven and last minute clean-up and set up. The weather allowed us to take advantage of eating on the back porch; a first for the year. We sent some bunny-helpers down to the park, just a half block from the house, to spread out eggs for gathering. After grabbing all the loot, the kids played a bit at the playground while the adults chatted and soaked up the sun. We headed back to our house and continued to enjoy the weather and company - it was sunnier longer than we expected. After everyone departed there was the clean-up and then a lot of sitting and doing nothing. We did catch up on "Turn," our new family addiction since "The Walking Dead" is over for the season. My 13 y.o., in particular, seems to enjoy it - even had some commentary for us during the first episode. He really likes this time period and it helps that they've been studying it this year.
I entertained the idea of working on my StashBusters challenge #4, but couldn't make my body get out of the chair. I have challenge #4 laid out on my table, it just needs gluing down, which, with luck, will happen today.
I did get Challenge #3 done last week. The challenge was making chevrons; you saw the card based on the challenge HERE. Had I looked in the gallery, I may not have taken the easy route by using chevron paper, as there were some good examples. However, I was coming off the Starburst challenge and I couldn't make my fingers cut all the paper necessary to make chevrons. Given the number of photos for this week's Project Life® 2013 page, I'm not sure all the cutting would have worked very well. I'm pretty sure it would have been too busy. I have the card and I have the idea should I have a page where that would work, so I'm good with this. Plus it's now done. And that trumps everything.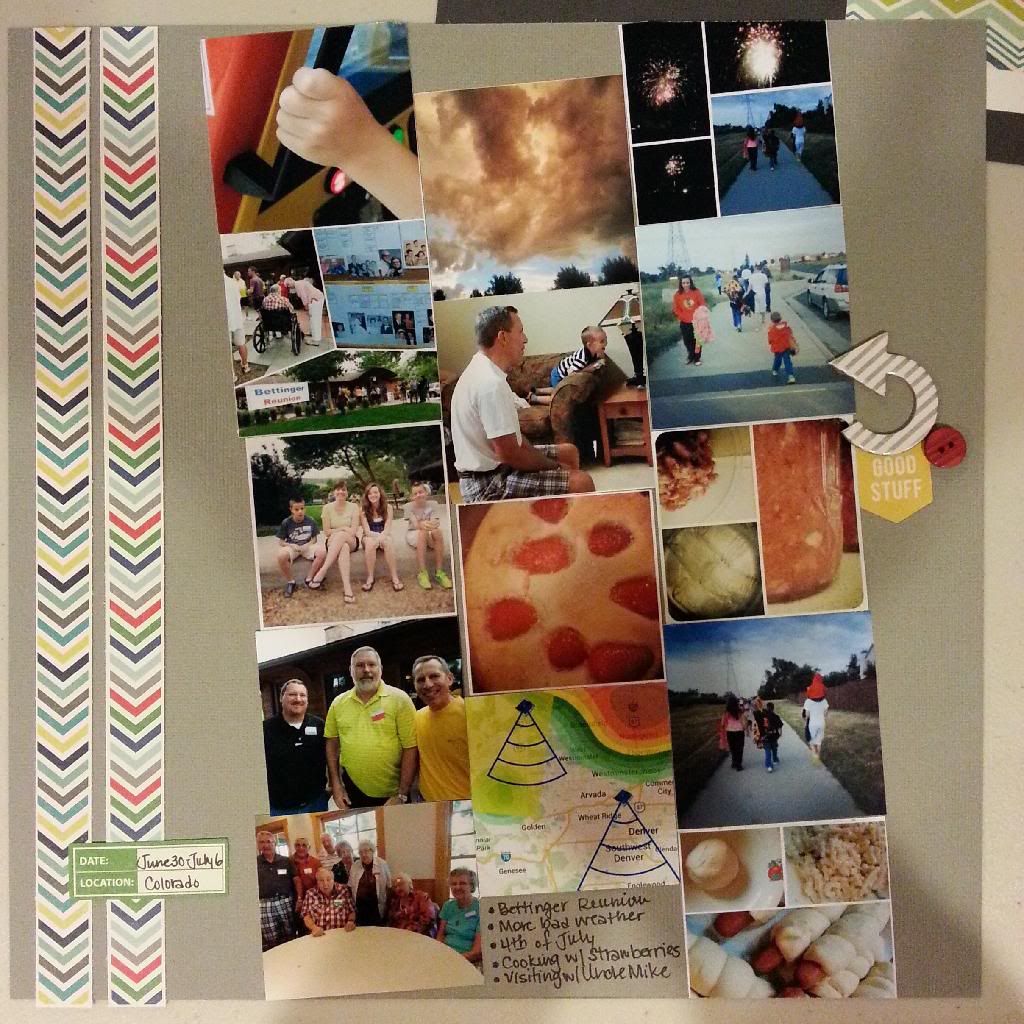 With this page, I'm well into July, 2013. I barely dug into the October Afternoon All Boy line found in the April Bigger than a Breadbox kit. I've got three more challenges laying out on my work table and like I said, #4 is laid out. I'm loving this class. Not only for the inspiration for digging into my stash - which I did for Challenge #4, but because I'm tag-teaming it with getting last year's album done. It also has me rethinking how I'm storing my embellishments.
Happy Tuesday,