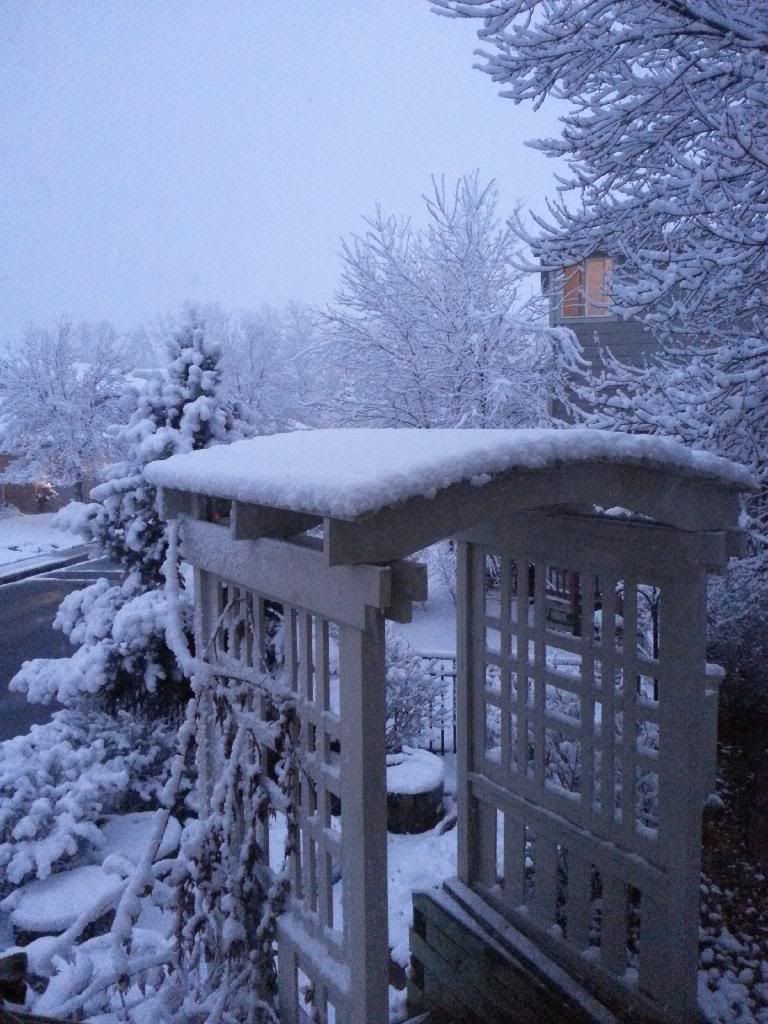 This was the view from my kitchen window this morning. Snow. Heavy, wet snow. Now, I love winter - it's my second favorite season - but I eventually I'm done with brown views, the brown grass, the brown trees and just a general lack of any color. Plus there comes a point when there hasn't been enough snow to wash away the dust, which just gives everything a dusty coating. I'm at that point - though the drive this morning was gorgeous - that whipped-white, hosed-down look on all the trees against a dark grey sky was just amazing and I soaked it all in.
I have no smooth transitions today, which you'll notice. . .ready? So, two of the older kids, the 17 y.o. and the 15 y.o., are training for the Rock 'n Roll half marathon. My son, the 15 y.o. is just doing it - he's in and he's all in. My daughter, the 17 y.o., is struggling to get started get into a routine. I know she can totally do this. I know it's in her. I know she's strong enough to finish. I believe in her. I do, however, worry that she's not getting over the hurdle of just getting into the training she needs to do. She, unfortunately, is much like her mother in allowing small things to give her reasons/excuses why it's not going to work today, or this week, or this even this minute. It's fun when you see your own flaws reflected in your kids isn't it?? Yeah.
Anyway last week, on Spring Break, when the 15 y.o. wanted to go train at the local rec center, I took the 5 y.o. and forced encouraged the technology-bound 13 y.o. to join us. My 17 y.o. joined once or twice. I sat pool side with the 5 y.o. while conditioning commenced with the other three. This week, because school is back in and we usually head to the rec center after dinner, I've left the 5 y.o. at home (he's not too happy.) And while I could just sit and read, I chose to walk the track. I know! If you've been here for a bit, you'll recall my struggles with any type of exercise. Basically, I hate it. I have had minuscule success with walking in the neighborhood in the past couple years, but it was generally short-lived (remember that whole my daughter myself thing in the paragraph above - well, yeah, there you go.)
The track is totally boring to walk. But I'm doing it. You will not be hearing, "I feel so much better" anytime soon. But I'm doing it. Right now my Achilles ache. But I'm still walking. My shin bones feel like they're on fire. But I still walked. I hurt my ankle in the car accident, which ached for about a week. Well, after my first walk on Monday the pain was back and was way worse. But I still walked on Tuesday. My pace is slow, but steady. But I'm doing it.
Finally, peeks for the April kits are up - though I just realized I need to change the home page slide show. Duh. Anyway, I'm looking forward to playing with their bright Spring-y colors. I'm sure the majority will go for Project Life® catch-up, but you never know.
If you aren't a member of one of the autoships, today is your day to sign-up. There's no time commitment and you have unlimited skips. You've see all the things that are being created with the kits - what are you waiting for? Join and get stuff done! Just jump right HERE and do it!
Happy Thursday,