Signs of fall are coming fast and furious here. Well, not today, but tonight and in through the weekend. 70's baby! And rain. It's gonna be awesome. It's Colorado, so it won't last because Summer doesn't go quietly, but I'll take what I can get.
My sweet hubby has been cleaning up some of the small projects around the house that have been getting under my skin - he dealt with the holes in the basement ceiling (they need to be textured and painted, but the holes are sealed) and he installed the new ceiling fan in our bedroom. The garage is looking pretty good, and I understand that some things from the store room are now out in the garage. All that means less clutter and may help free my creative brain.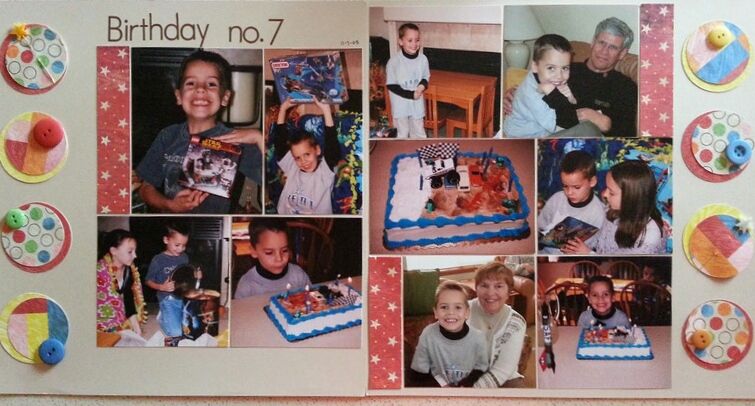 Back when my creativity was spilling over, I created the above layout, using Week Two's sketch for inspiration, from Scrapbook & Cards Today's Easy-Detailed-Expert class (they have a new class starting in September about creating 2-pagers.)
The sketch was a one-page, two photos (on a single mat), stacked vertically. The layered circles were one of the elements, found in two of the examples, that I used. I don't think I've ever done such an element, at least not that I can recall. The photo placement only resembles the sketch in that the photos are stacked. But to give it a similar feel to the photos from the sketch, I kept the edges in line. The paper helped even out otherwise uneven edges, as well as giving it the feel of being matted.
The paper is Basic Grey's Life of the Party line, which was found in a Smaller kit from 2011. I didn't use much of the paper from this kit, nor the embellishments; I added to the buttons that came with the kit. I did create another layout using the remaining papers.
Wow, this is my 17 y.o. when he was my youngest's age, back in 2005. And tomorrow he'll start his final year of High School. *sniff*
Cool weather. House projects getting cleaned-up. It's all good.
Happy Thursday,