There is rain, a lot of rain (like 2+ inches) in the forecast for the next couple days; we've had flood advisories beeping away since yesterday. There are . . . wait for it . . . temps in the 70's in the forecast, too. We may not even get to 70 tomorrow. I'm more excited for that than I am for Christmas, I think. Not that I like rain that much, I mean I do like rain, but it's more about how much I hate the heat! The forecasted weather has me thinking about baking and wearing shirts with sleeves, short sleeves, but sleeves nonetheless. I may even have to dig out a pair of capris or wear closed-toed shoes. . .or just shoes in general.
We had a quiet, pretty uneventful weekend. Hubby and the boys took to cleaning the garage and unearthing hubby's wood shop. They moved a fair amount of stuff around and made room to build a cart to keep all the sheets of wood he has contained, as they take up a large space. The end goal is to get the shop working again so they can assemble and finish a couple sets of Adirondack chairs that have been hanging around for a few years. Once they've tackled that, I've got a long list of other projects for the wood shop.
My daughter spent the weekend prepping her room for painting, which she can hopefully start painting and/or taping later today. Once she's done it's the boys' turn. Their rooms will also be switched around in the process. If the clutter in the upstairs hallways during this time doesn't drive me insane, I'm not sure what will. The heat?
The cooler weather motivated me to deal with the basement, yet again. I moved stuff into the larger store room, dragged my Xpedit shelves from IKEA into a new configuration and tidied my scrap area. All the while ignore the amassing pile of scrappy items on my cube tops that I don't feel like dealing with. I did complete another Sketch Solutions lesson and pulled photos and papers for another, which I think leaves me two more. The class ended a few weeks ago, but Super Stash Busters starts on Thursday. Hurray!
I also took up my cross-stitching again - my first hobby. I've got several projects going, that like hubby's Adirondack chairs, have been languishing for some time. I finished up one ornament on Saturday night and started another on Sunday. I forgot how much I enjoy counted cross stitch. I also noticing my eyesight isn't what it was the last time I picked up my stitching, which means I probably need glasses. Well, a different prescription as I already have glasses that I wear now and then. Crap.
This isn't the Lesson I worked on over the weekend, but one I completed a week or so ago. The lesson was about mirroring, something I have down pretty good - it's the flipping and turning I tend to forget about. I stayed true to the original sketch, which was all about the grid. Grids are awesome. Where I have six square graphics, the sketch showed spaces for four 2 x 2" photos. I couldn't trim any of my photos that small, so I went with images from the patterned paper.
I used the Bo Bunny Surprise line found in the Smaller April '13 kit. I trimmed down a diecut card to put my journaling on. Can I just say that I wanted that card on the layout. I also knew I wanted to journal on it, but dang, I couldn't for the life of me work in on the page. Seriously? I did wish in the end I had a little supply of washi tape, as I'd liked to have placed a strip of it along the top of that journaling card to help draw the eye to it.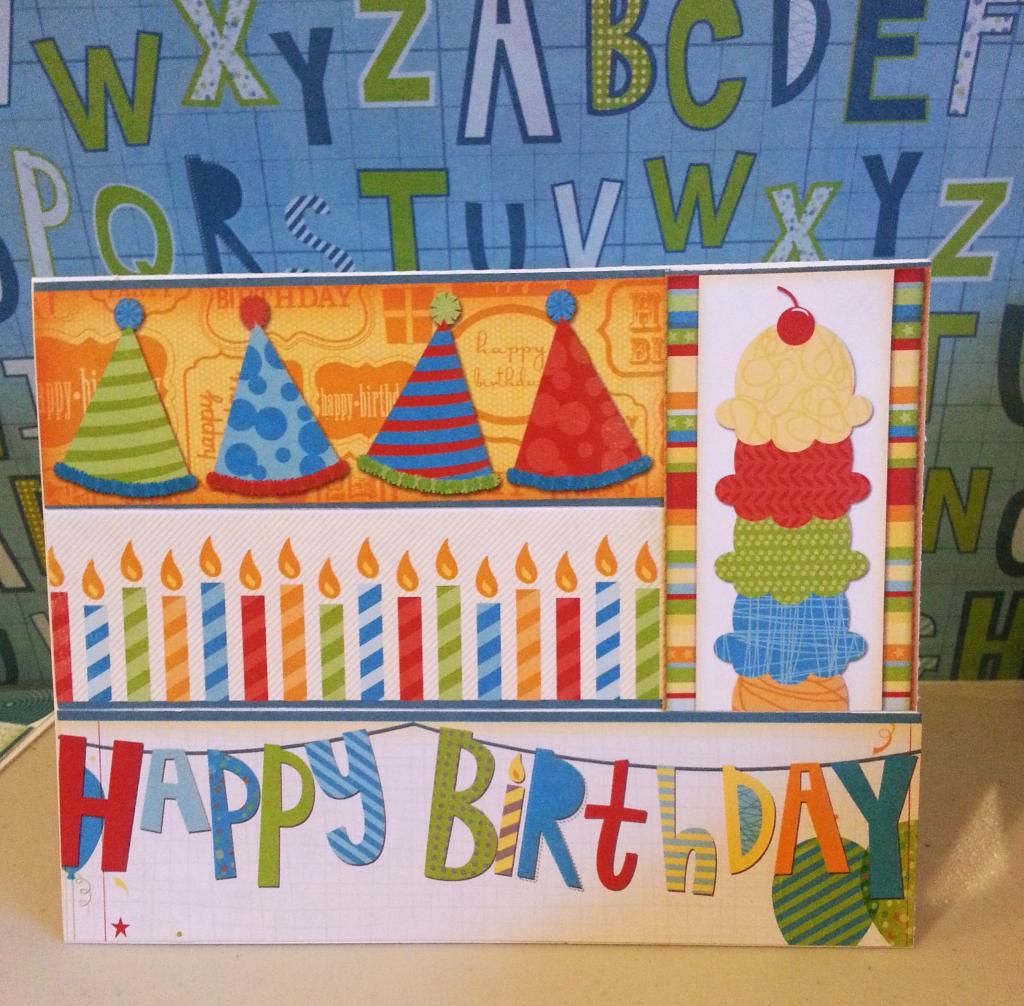 I also popped out two cards from the scraps left from the kit. Outside of some trim, there wasn't anything left of this Bo Bunny kit.
Here's to hoping today, after folding laundry, I'll get another page done. Or maybe some more stitiching. :)
Happy Tuesday,